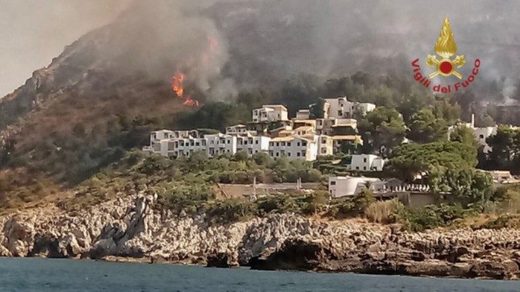 At least 700 tourists in Sicily were the latest to be displaced by the hundreds of wildfires raging across Italy.
A threatening wildfire forced many of the tourists to flee the seaside resort of Calampiso, located on the northwestern tip of Sicily, by boat on Wednesday.
BBC News
reports that around 700 tourists were evacuated, while
The Local
claims the figure is closer to 1,000.
Approximately 10 people sought medical care at the hospital for smoke inhalation.
Two people have been killed as a result of the fires,
The Local
reported. One man died while trying to extinguish a fire near his property in the Cosenza province. Another man was found dead in the Vibo Valentia province.
Firefighters had control of the fire on Wednesday evening,
The Local
stated. However, the fire service reported that crews were still battling 476 wildfires across Italy on Thursday morning.
During the first weekend in July, another blaze on Sicily killed dozens of farm animals and destroyed farms.
A series of fires, suspected to have been started by arsonists, on Mount Vesuvius near Naples left tourists stranded while also forcing several evacuations this week, according to
The Morning
.
The winds shifted for a time on Wednesday morning, bringing thick smoke and dangerous air quality into Naples.
The mayor of Naples has called for a national state of emergency to be declared
, according to
The Local
.
Virginia Raggi, mayor of Rome, said
forest fires in the municipality have almost quadrupled compared to the same time last year.
Several months of above-normal temperatures and scarce rainfall have resulted in ideal conditions for wildfire development and growth across Italy.
Following another hot and dry day on Thursday, temperatures will dip slightly across central and southern Italy on Friday and Saturday as the chance for thunderstorms increases.
While any rainfall will be beneficial, there will be a threat for new wildfires to form due to frequent lightning.