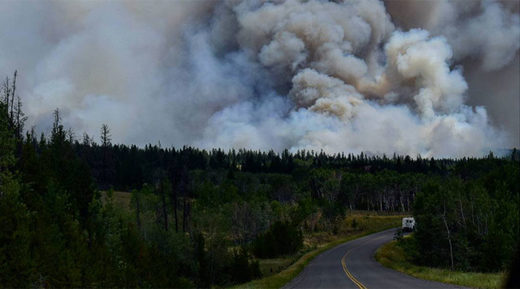 Evacuees escaping wildfires that have spread across swathes of British Columbia filmed their journey as they drove through roads engulfed by flames.
Some 14,000 people have been evacuated as 220 active wildfires rage in the province.
"Oh my goodness, I would go fast," says the passenger in a video uploaded to Twitter by Sally Aitken. Flames billow on the roadside and smoke fills the air as they drive away from Hanceville.
"We drove through this fire last night on Hwy 20 - terrifying! Tall flames on both sides, black smoke, zero visibility for 10km," Aitken said.
Around 1,000 firefighters are battling the fires, with 300 from outside the province coming to join them in their efforts, reported
CBC
.
The situation is expected to worsen on Wednesday when unfavorable winds are expected to pick up.
"We needed to err on the side of caution and make sure people had advanced warning," Cariboo Regional District Chair Al Richmond told
CBC
.
"We normally have days to prepare people and suggest they might want to prepare for evacuation."