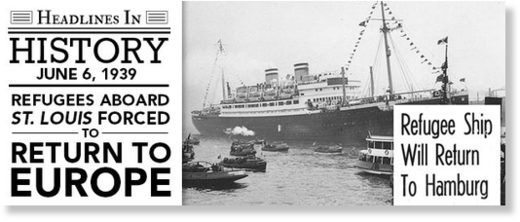 On June 6, 1939, the
St. Louis
, a German transatlantic liner, was forced to sail back to Europe after more than 900 of its
passengers
(primarily German-Jewish refugees) were
refused entry
by Cuba; over 200 of these refugees would later die in the Holocaust.
The
St. Louis
departed Germany for Cuba on May 13. The majority of the 937
passengers
were
German Jews fleeing the increasing discrimination and violence against Jews under Hitler
, and many planned to stay in Cuba only until they received U.S. visas. However, unbeknownst to most of the passengers, a week before the ship sailed, the Cuban government invalidated one of the types of travel documents held by the refugees.
When the ship
arrived in Cuba
on May 27, fewer than 30 passengers—those who had the proper papers—were allowed to disembark. Despite days of negotiations, the Cuban government could not be persuaded to allow the refugees to enter. Leaving Cuban waters on June 2, the ship sailed near the
Florida coast
.
Passengers
petitioned President Roosevelt
for refuge but received no answer
. The
St. Louis
was finally
forced
to
return
to Europe on June 6.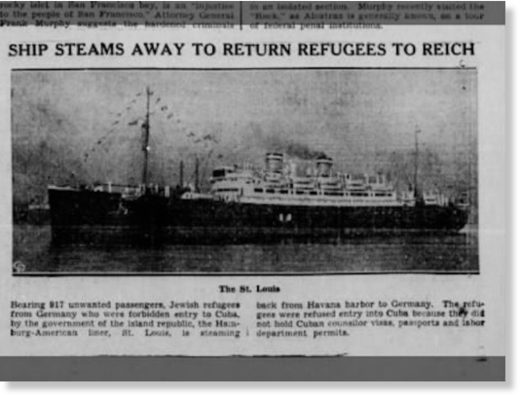 Throughout May and June, newspapers across the United States covered the plight of the refugees on board the
St. Louis
. However, reactions and opinions varied on the question of the refugees and on the related topic of immigration from Europe. For example, one
letter to the editor
, featured in Iowa's
Des Moines Register
on June 11, was passionate in its support of the refugees:
"As a human being, as a Christian, and as an American, I object to the treatment of 900 Jews aboard the ship 'St. Louis.' Surely [...] we could shelter these tortured people until some permanent settlement could be made."
In sharp contrast, another
letter to the editor
, this time from the De Kalb, Illinois,
Daily Chronicle
on June 20, took an isolationist stance regarding people fleeing Europe:
"Until we [the United States] prove that we can handle our own political affairs intelligently, the proper thing for us to do is stay in our own back yard, lock the gate, and take care of our own troubles, which are plenty. Let Europe take care of their own destitute."
Upon returning to Europe, the St. Louis was allowed to dock in Antwerp, Belgium, on June 17.
The
United Kingdom, France, Belgium, and the Netherlands
agreed to divide the
passengers
among them, but safety for many of the refugees was short-lived. Except for the refugees accepted by the United Kingdom, many of the former passengers were subject to Germany's destructive sweep across Europe during World War II; 254 of the
St. Louis
's refugees would die during the Holocaust.