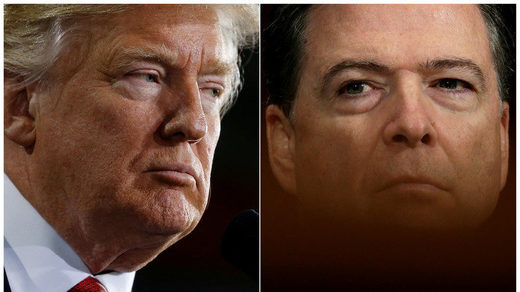 After the lull in anti-Trump hysteria courtesy of his mega Tomahawks, the never-Trumpers are back in action. Trump met with Lavrov in the Oval Office. Ergo, the Kremlin is now in full control of the White House. Or so the hysteroidal media no-brainers would have us believe. The sight of a Russian - nay, more than one Russian! - in the White House was enough to provoke ecstatic heights of gleeful agitation among those who seem to derive some perverted sense of satisfaction that their deepest nightmares are true. This form of pathological masochism would be hilarious if it weren't for the fact that it is tearing the United States apart.
First, some anonymous somebody criminally leaked details of an Israeli intelligence operation involving ISIS to the Washington Post, but mendaciously blamed Trump for doing just that. Only Trump didn't, and the Russians have the transcripts to prove it. But the Americans don't want those transcripts. They derive too much pleasure from seeing their fearful fantasies come true, thus justifying even more leaks that don't bear any resemblance to reality. Thus, second, some anonymous somebody leaked that Trump called Comey a nutjob to Lavrov, hinting that Trump had political motivations for firing him. This on the heels of the alleged Comey memo suggesting Trump tried to get Comey to back down on his investigation of Flynn - despite the fact that Comey already testified under oath that no such thing happened. Oh, and the Russians apparently bragged that they had total control of Flynn's mind using Soviet-era ESP technology, or something like that.
But it's not all bad news. The unsolved murder of DNC staffer is back in the news, with several individuals claiming they know that he was the leaker of the DNC emails. If true, that would reflect somewhat poorly on Mrs. Clinton and her team of ne'er-do-wells. After all, one of the Podesta emails has him writing "I'm definitely for making an example of a suspected leaker whether or not we have any real basis for it." And if there was a basis for it? What then, Mr. Podesta?
Tune in to Behind the Headlines this Sunday 21 May from 6-8pm CET (4-6pm UTC, 12-2pm EST) for all the juicy details of the Never-ending Trumpathon
Running Time:
01:43:40
Download:
MP3