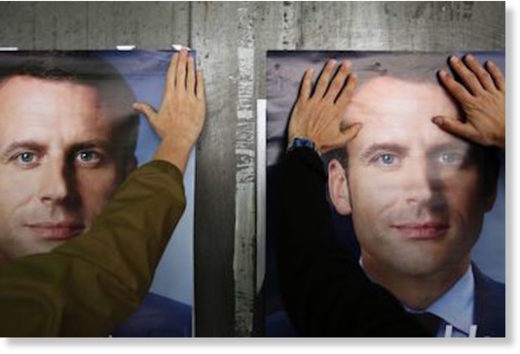 Today lightweight Emmanuel Macron enters the ring to do battle with Marine Le Pen in the French presidential elections. By any objective measure, Macron would be laughed off the stage and back into that hole in the Rothschilds' basement he crawled out of. But no, it looks like he's slated to win, thanks to a remarkably biased media campaign and enough foreign meddling to make a neocon blush. Not to mention a conveniently timed "Russian hack attack" that is perhaps too little too late, but which will provide months of material for anti-Russian rhetoric from France's robo-banker non-entity.
In other news, Russia, Iran and Turkey have put together a plan whose implementation could spell the end of the war in Syria. With a little help from Trump on the sidelines, the Astana group has agreed to create four "de-escalation zones" in Syria. Once more, the U.S. played no major role in the negotiations, though Putin did speak to Trump about it over the phone, and Lavrov says they used some of the Americans' ideas. Are things looking better for Russian-US relations, and a coming end to 6-year dirty war in Syria?
Tune in today to Behind the Headlines to find out and hear live coverage of the French election.
Join your hosts this Sunday May 7th from 1:00 - 2:30pm EST (7:00 - 8:30pm CEST)
Running Time:
01:18:42
Download:
MP3