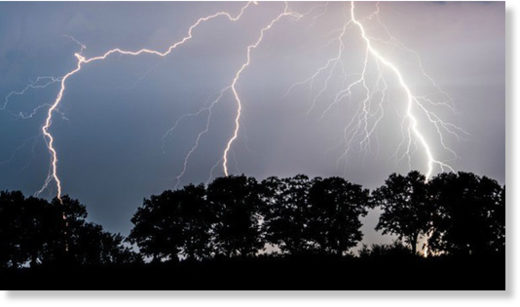 Even a few years ago, metal objects in the shapes of tridents, crescents, stars and roosters could be seen on the roofs of buildings. They are hardly seen anymore.
The tridents or stars on top of buildings were part of the grounding system installed for protection against lightning strikes.
Even though many modern buildings have specially designed objects, how many of those really have proper grounding remains a point to ponder.
Last year, Bangladesh witnessed a record rise in the number of deaths from lightning strikes.
Lightning strikes occur the most between March and May.
According to data of the disaster management and relief ministry,
217 people were killed in lightning strikes last year, beating all previous records in the country. The number was 160 in 2015, 170 in 2014, 185 in 2013, 201 in 2012 and 179 in 2011. At least 22 people have been killed so far in lightning strikes this year.
The number of people injured by lightning strikes is not known.
However, data collected by a private organisation showed the number of casualties was higher than the one provided by the government.

According to Bangladesh Disaster Forum,
350 people died
after being struck by lightning last year, while the number was 274 the previous year.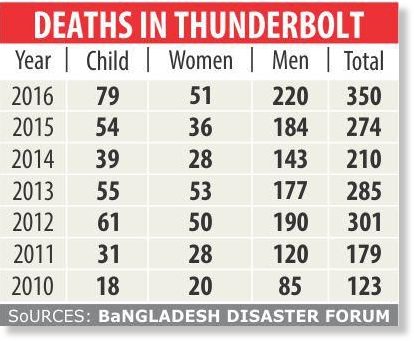 The government declared lightning strikes as one of the natural disasters only last year.
Tree plantation and proper grounding in buildings with metal objects on the roofs could help reduce lightning-related deaths, said experts.
The government was planning to bring in lightning strike detectors, a device that can predict lightning strikes and issue warnings 30 minutes ahead. Vietnam was using this technology, said officials.
"We are working on it [introducing lightning strike predictors] and making proposals ... We are working to construct big towers in haor areas," Disaster Management and Relief Secretary Shah Kamal told
The Daily Star.
"The situation has reached an alarming level and we are concerned.
We are emphasising on tree plantation, especially palm trees. We have decided to plant 10 lakh palm trees across the country.
"We asked the Public Works Department to ensure installation of grounding systems in all buildings. We will keep the provision [of installing grounding system] there in the building code," he said.
Gawher Nayeem Wahra, director of Disaster Management and Climate Change at Brac, said, "The number of large trees in the country has decreased sharply in recent years, which is a major reason behind the rise in lightning strike related deaths."
Gone are the days when various metals were installed on the roofs of buildings, which basically worked as grounding, he said.
"Grounding system is rarely seen in our buildings. The casualty rate is high in places where there are fewer trees. In Dhaka, we see electrical equipment going out of order due to lightning strikes, because those work as ground during strikes."
The poor are the worst victims of lightning strikes, he said.