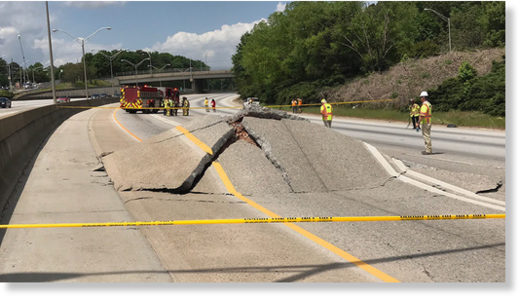 The highway system in Atlanta, Georgia has taken another hit ‒ its second in less than four hours ‒ as Interstate 20 buckled due to a construction mishap on an underground gas line. One motorist is in critical condition.
Construction crews were pushing concrete to fill an abandoned gas line underground when pressure built up and caused the road to buckle, WAGA reported. All westbound lanes of I-20 were closed, DeKalb County police said.
A motorcyclist who was going 55mph crashed when the road buckled, eyewitness Greg Phillips told the
Atlanta Journal-Constitution
.
"[The motorcycle] just fell in,"
Phillips said.
"It was like a dip."
The biker is in critical condition with multiple fractures, likely including a broken leg, paramedic Dennis Pierre Charles said. The victim was thrown 10-15 feet into the roadway. As Charles sought to help the injured biker, the bump in the road kept growing.
"The roadway just started getting higher and higher,"
he said.
"I'm not sure if something shifted underneath."
The large crack occurred in the High Occupancy Vehicle (HOV) lane between the Flat Shoals Road exit and the Gresham Road overpass, WSB reported. The buckling is 2-3 feet high, witnesses said.
"That's a heck of a place in the road for this to happen,"
Phillips said.
"More work for the DOT."
The buckling roadway occurred around 11:30am on Monday morning, about four hours after a different Atlanta highway ‒ Interstate 75/85 ‒ was shut down after a tractor-trailer carrying benzoyl chloride crashed into a passenger vehicle and overturned, spilling some 250 gallons of the toxic chemical.
The Hazmat truck was not supposed to be driving inside the perimeter on the downtown connector, Atlanta police said. The driver of the car, Mitchell Epstein, was driving on a suspended license. The truck driver, Matthew Bowden, was given a citation for violating a Department of Transportation (DOT) restriction on the roadway.
Travel times in Atlanta were already at an all time high after a massive fire caused I-85 to collapse three weeks ago. The cause was determined to be arson.
Basil Eleby, 39, has been charged with first-degree arson for starting the fire, but his attorneys have blamed the Georgia DOT for storing construction materials under the bridge for years, the Atlanta Journal-Constitution reported. Georgia DOT Commissioner Russell R. McMurry has denied the accusations.
"It does not ignite
," he said.
"It takes something to cause something like that to burn. It is a high-density plastic that is not combustible."