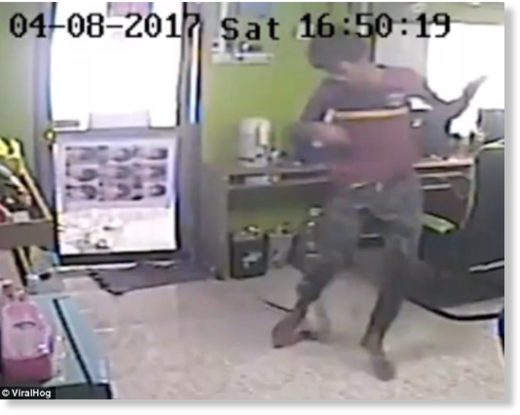 This is the terrifying moment a 'feisty' snake seemingly sprang out of nowhere and attacked a man by biting him on the bottom.
In video of the shocking encounter, the slithering creature appears to fly through the air when the unsuspecting internet cafe customer cracks open the door.
It immediately latches on to his bottom sending the man running for safety in the venue in the Wiset Chai Chan District of Ang Thong, Thailand.
But its sharp teeth are clamped on so hard that he is forced to kick the snake then roll on the floor in a bid to shake it off.
It creates pandemonium in the internet cafe with other customers hit by his volley of kicks and a chair knocked over.
As the others flee for cover some of them can't help but laugh at the panicking man's dramatic reaction to the rat snake.
An alternate angle shows the snake springing out of a storage unit seemingly unprompted and flying through the door.
Rat snakes are not venomous and kill their prey using constriction - but online commenters have said the experience would have been terrifying for the man.
Juan Valdez said: 'I would die in that situation.'
Stranahan07 wrote: 'Did that snake just fly for a quick second?'
Another commenter named Richard speculated: 'That guy owes a lot of money to the owner and the snake is the debt collector.'