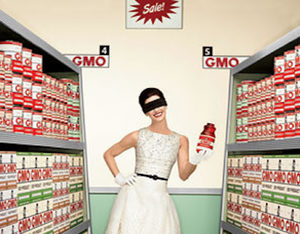 UK supermarkets led the world in saying 'no!' to GM foods and ingredients, writes Liz O'Neill. But they faltered on GM feeds for pigs, cattle, poultry and fish, with GM soy and corn dominating the UK's non-organic market. Now campaigners are putting the pressure on supermarkets to make their entire supply chains GMO-free for the sake of animal, human and ecological health.
When genetically modified (GM) crops first emerged, campaigners donned decontamination suits and took to the fields.
These days, the most important battleground may actually be the 'contact us' page on the supermarket websites.
Consumer rejection took GM products off the shelves very soon after they first appeared in the UK. But that's only part of the battle.
Showing supermarkets that their customers don't want GM
anywhere
in the food chain is vitally important to creating a
responsible
, fair and sustainable food system.
GM crops are not grown commercially in the UK and never have been. European legislation has provided us with the means to hold GM applications at bay and Brexit is
hailed by some
as an opportunity to bring GM into our fields. But cultivation is only part of the problem -
our farms and our food chain are already far from GM free.
You won't find many GM products our supermarket shelves.
A few persist
- mostly cooking oils and imported American sweet treats - but compulsory labels give consumers an informed choice and the results speak for themselves.
Consumer rejection of GM was so profound when it first emerged that the supermarkets went beyond the label and banned GM feed in the production of their own-brand meat, eggs and dairy products.
Until 2013, that is
.
GM animal feed has quietly become the norm
In the past few years, GM animal feed has quietly become the norm. So quietly, in fact, that when umbrella group
GM Freeze
carried out an assessment of the UK's top ten supermarket chains in October, even the campaign team were shocked by how badly the companies had slipped in terms of policy, products and consumer information about the use of GM animal feed.
The
Feed me the Truth
campaign ranks supermarkets against a
five-star standard
on their policy commitment to supporting and developing non-GM supply lines; on the information they provide to consumers; and on the availability of non GM-fed products in their stores.
A shocking nine out of ten are performing so poorly they currently have a zero rating with
no non GM-fed products
available outside their organic ranges and no plans to do better. Only Waitrose buck the trend, scoring two of a possible five stars.
In November 2016 Waitrose consolidated
announce
d
that the pigs producing their pork products would now be enjoying non-GM European-grown soya. The new source doesn't currently meet their full feed requirements so Waitrose pork products are still not entirely non GM-fed but theirs is a strong step in the right direction and proves that change really is possible.
However, even Waitrose score badly on the campaign's rating of information to consumers and that appears to reflect a conscious decision by retailers to keep consumers in the dark.
'Convenient' to keep quiet
In February 2016 David Hughes, Professor of Food Marketing at Imperial College London,
shocked a farming conference
by declaring that
"We find it convenient not to make a big noise about [GM animal feed]."
A YouGov poll
‡
, commissioned by GM Freeze to
launch the Feed me the Truth campaign
, shows just how successful that strategy of keeping quiet has been. Supermarkets across the UK imposed well-publicised bans on GM feed in the production of own-brand products until 2013.
Now that has all changed but only a fifth of adults in Great Britain (21%) are aware that no UK supermarket currently has such a ban in place. Almost a third (31%) believe that at least one supermarket has a ban and a whopping 48% of respondents simply 'don't know'.
Supermarkets need to respond to public demand, for information and for change
When GM Freeze asked secret shoppers to try and find out which products they could buy without supporting the cultivation of GM crops, they met with confusion and outright ignorance from supermarket staff. Some received completely incorrect information, while others were told about exclusions on GM ingredients.
Even the campaign group's own staff members have found it difficult to get a straight answer from some of the supermarkets featured in the campaign.
The GM crops being fed to our farm animals are grown in
ways that harm people, animals and the environment
.
These crops aren't allowed to be grown in the UK and many people don't want anything to do with them. Despite
strong public support for labelling of GM-fed products
, they are hidden from view and it seems the supermarkets are not used to being asked questions.

Comment: Read more about farm animals being fed GM crops
And that's where those
customer services 'interfaces'
come in. The dominance of supermarket chains isn't usually a tool for positive change, but behind the mighty image they are still very much consumer led. If they believe that their customers care enough about GM feed to shop elsewhere then they will start to take notice.
The GM-free supply chain has become dogged by poor segregation and the dominance of GM soya and maize but if the supermarkets believe their profits depend on providing non-GM-fed products then that is what they will order.
And if the supermarkets demand a non-GM supply chain then I reckon they are influential enough to get it. Don't you?
About the author
Liz O'Neill is the Director of GM Freeze, the UK's umbrella campaign for a moratorium on GM in food and farming. GM Freeze is working to help create a world in which everyone's food is produced responsibly, fairly and sustainably.
Campaign:
Feed me the Truth
is a campaign aiming to raise consumer awareness of the hidden GM in the food chain and persuade supermarkets to remove it.
References
‡
All figures, unless otherwise stated, are from YouGov Plc. Total sample size was 2035 adults. Fieldwork was undertaken between 30th September - 2nd October 2016. The survey was carried out online. The figures have been weighted and are representative of all GB adults (aged 18+).