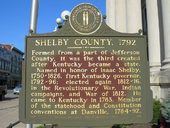 Eastern part of the county rocked by strange rumble
Social media was bustling with chatter over the weekend regarding an unanticipated and thunderous boom that occurred Saturday evening. But days later, people are still searching for a solid explanation.
Shelby County Emergency Management Agency Director Paul Whitman said he was asleep at the time but began receiving text messages around 9:15 Saturday night questioning a loud boom that radiated through the eastern portion of the county.
Whitman said there were reports from those in Mount Eden to Bagdad.