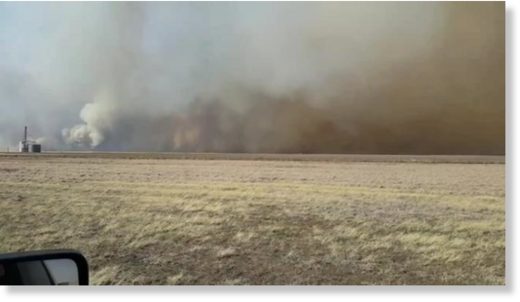 Three ranch hands have been killed while trying to protect livestock from a wildfire in the Texas Panhandle, where blazes have scorched about 125,000 acres (50,585 hectares), officials said on Tuesday.
Wildfires driven by high winds and dry conditions have also hit Colorado and Oklahoma, prompting evacuations and destroying structures.
A woman and two men were killed on Monday in a fire that hit in Gray County, Texas. One was overcome by smoke and died in an area hospital and the other two died from burns, said County Judge Richard Peet.
"They were trying to move cattle away from the oncoming fire," he said in a telephone interview. The names of the three people have not yet been released.
The largest fire currently blazing in Texas is the so-called Perryton blaze that has covered 100,000 acres (40,000 hectares) in the Texas Panhandle and is only 5 percent contained, according to the Texas A&M Forest Service, which tracks wildfires. That fire has destroyed two houses.
In neighboring Oklahoma, wildfires in the northwest part of the state led to evacuations of multiple towns, according to Oklahoma Forestry Services, which said more than 10,000 acres (4,000 hectares) have burned.
Residents in the towns Buffalo and Laverne as well as in north-central Woodward County were evacuated on Tuesday as high winds whipped flames, it said.
A critical fire danger was expected across northern Oklahoma through Tuesday evening, the National Weather Service said, adding, "Any fires that develop will likely spread rapidly."
In Colorado, a wind-driven wildfire erupted on the eastern plains of the state on Monday, scorching 30,000 acres (12,000 hectares) of grassland, prompting the temporary evacuation of a small farming town and destroying at least three homes, emergency officials said.
The blaze was 50 percent contained, the Logan County Office of Emergency Management said in a statement. No injuries have been reported but three homes and a fourth structure were destroyed by flames, it added.
(Reporting by Jon Herskovitz; Additional reporting by Heide Brandes in Oklahoma City and Keith Coffman in Denver; Editing by Frances Kerry)