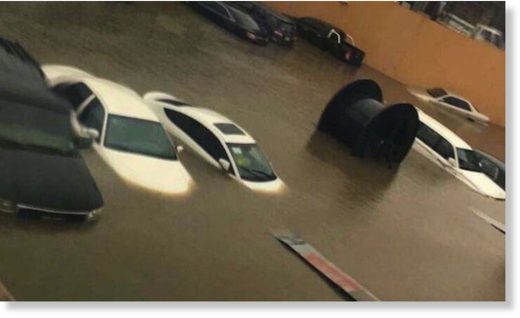 At least
one person has been killed and 10 injured after severe floods hit Saudi's Asir region
on Wednesday, according to local reports. The Saudi Civil Defense said the agency rescued over 280 people from the region, reported local daily
Arab News
.
The agency also said it
received more than 900 emergency calls in the southern cities of Abha and Khamis Mushayt. Social media was filled with pictures of flooded roads, with several cars completely submerged in water.
A report by Al Arabiya claimed that at least 45 students were safely pulled out of a school bus which drowned in the floods. Many schools were closed and warning sirens were also reportedly launched in the Abha dam area.
Asir governor Prince Faisal bin Khalid has directed the Emergency and Civil Defense Committee to follow up on rescue efforts,
Arab News
reported. Saad bin Abdullah Al-Thabet, spokesman of the governor's office, urged people in the area to be cautious and avoid going near valleys.
According to weather reports, Saudi capital Riyadh was also hit by rain with thunderstorms on Wednesday.