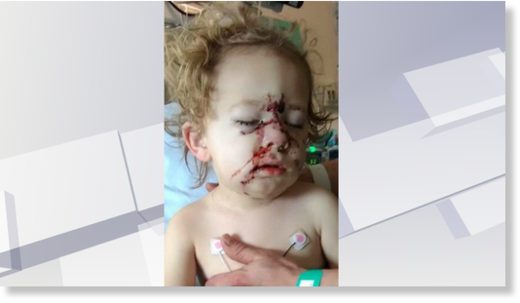 Doctors are treating a two-year old at Kentucky Children's Hospital after a pitbull bit the boy in the face.
The bite happened at a home in the East Moreland Trailer Park in Lincoln County..
Austin McClure, the toddler's father, said that doctors told him it was the worst dog bite injury they have seen on a child.
"Tore into his face and ripped his nose pretty much clean off his face.
They said the dog was out to kill.
It wasn't playing around."
The injured boy, named Trenton,
received 50 stitches to his face.
Doctors say he will have to stay at UK for at least a week for treatment.
McClure has a lot of questions surrounding what happened to his son. He says the toddler was in the care of his ex-girlfriend, the boy's mother, at the time of the attack.
The Lincoln County Sheriff's Office did open an investigation, but the sheriff says the county attorney advised him that a report was not needed since the county dog warden already did one. County Attorney Darryl Day said that no one has inquired about filing charges.
The owners of "Camo,"
the pit bull involved,
say there were not home when the attack happened but that those with the dog were told not to let the dog near any children. WKYT was told that there were three adults with the child; his mother, her brother, and one other person.
The dog remains under quarantine at the Lincoln County Animal Shelter. It will stay there for at least 10 days, but the county attorney says that could be longer based on what happens with the case.
The child's grandfather on the mother's side says the mother is not to be blamed for the attack saying it was just an accident. He said the dog attacked Trenton suddenly while the todder was eating. He said it was over in a matter of seconds.
WKYT tried to reach out to the toddler's mother for comment but the grandfather said she was unable to comment at this time.