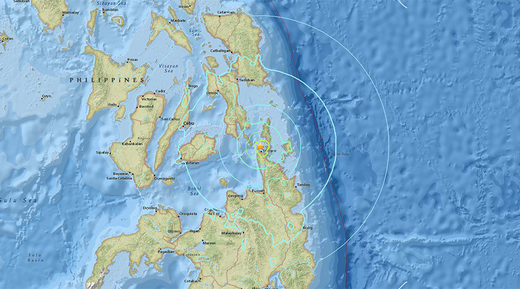 An earthquake measuring magnitude 6.7 has struck near Mindanao Island in southern Philippines, the United States Geological Survey has reported. No tsunami warning has been issued, according to the National Oceanic and Atmospheric Administration.
The epicenter of the earthquake occurred at a depth of 10km (6 miles) and about 13km (8 miles) east of the city of Surigao, located on the northeast of the island, which is the second biggest in the Philippines, according to Reuters.
Tremors were also reportedly felt in a number of nearby areas, including the Philippines' second city, Cebu City, and Talisay City.
USGS data
There have been no injuries confirmed at this early stage, with no damage to infrastructure or buildings reported.
Witnesses reported the tremors were felt for up to 60 seconds, with one witness in Butuan City reporting that their house moved for 30 seconds.
Australia's Official Bureau of Meteorology issued a statement Friday stating there was "no tsunami threat to the Australian mainland, islands or territories."