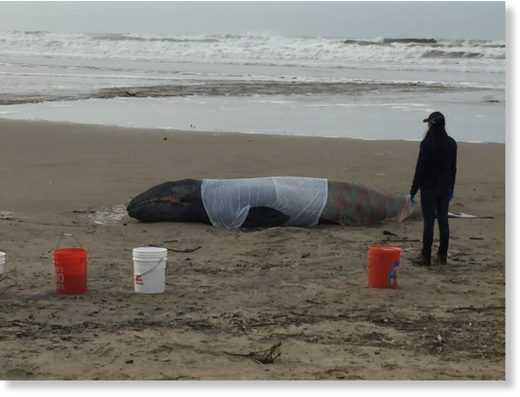 California State Parks officials were called out to Pismo Beach, where a gray whale calf washed ashore early Tuesday morning.
California State Parks Supervising Ranger Mike Lack tells KSBY they received the report just after 7:00 a.m. of the beached gray whale on the shore near the Monarch Butterfly Grove.
The calf was alive early Tuesday morning and there were multiple marine mammal agencies trying to keep the calf alive.
"Primarily keeping it moist and protected from the sun. Those are the two most important things we can do as trained responders when we find a whale stranded on shore," said Diana Kramer with The Mammal Marine Center.
Crews covered the calf in wet netting and poured water on it to keep it cool.
"They are used to being suspended in the marine environment. So we want to keep them wet and a little bit of water underneath them so their weight isn't pushing down as much and injuring them," said Kramer.
"His big tail flopping there in a little puddle of water," said Norma Harmelink, who saw the stranded whale early in the morning.
"They wouldn't let us get close because it was spewing a little bit and they say sometimes it can pass a disease," said Anamarie Vanvliet, a Pismo Beach visitor.
According to NOAA, around this time of year, gray whales give birth and migrate south. A NOAA representative says it's not unusual for some calves to wash ashore. In fact, NOAA says several calves have washed up on Southern California beaches. However, dragging a dependent young whale back to sea is not always the best option.
"It might drown, it might not have the mother's milk that it needs, so we don't want to put an animal in a worse situation by rushing it in and dragging it out," said Kramer.
"Up a little higher, they had spotters looking for the mother seeing if they could find the mother in the ocean," said Vanvliet.
Unfortunately, the whale died and NOAA now must decide what option to take to dispose of its body: taking it to a landfill, towing it out to sea, burying it in the sand, or leaving it and letting nature take its course.
"I think it's really sad it's such a young mammal didn't have a chance to live," said Linda Hahn, who saw the whale Tuesday afternoon.
Officials will open up the whale Wednesday to try to determine the cause of its death. In the meantime, the dead whale is still on the beach. Rangers say to stay away as it may be ridden with disease.
Officials from NOAA say this newborn whale was about 15 feet long and weighed around two tons.