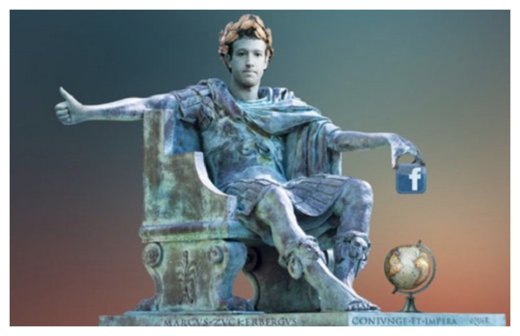 At this point, I've seen enough.
It's becoming quite clear that Facebook's Mark Zuckerberg wants to be President of these United States.
The topic first piqued my interest about a week ago when I read an article published at
Vanity Fair
titled,
Will Mark Zuckerberg be Our Next President?
Then, this morning, I came across the following tweets.
If that's not enough for you, how about the team of 12 people now working on his personal page to make sure it's perfectly pristine.
Bloomberg
reports:
When Facebook went public five years ago, the world had a pretty vivid picture of who Mark Zuckerberg was. As much as anything, that image was of Jesse Eisenberg's fictionalized performance as Zuckerberg in The Social Network: an intense, socially inept kid billionaire who always wore a hoodie, whether he was meeting with financiers or trying to screw a co-founder in court. Over the past couple of years, Zuckerberg has made a concerted effort to steer his image in a different direction.

Near the end of 2014, he began holding Q&A sessions with groups of people wherever he was traveling around the world, fielding softballs ranging from lessons on startup-building to his favorite pizza toppings. Those town halls have evolved into near-daily posts on Zuckerberg's own Facebook page, mixing news of company milestones with personal epiphanies, soft-focus photos from his life as a new dad, and responses to user comments. "What he's learned over the last two years is that his image in the digital domain needs to be controlled," says David Charron, who teaches entrepreneurship at the University of California at Berkeley. "And he's simply growing up."

Zuckerberg has help, lots of it. Typically, a handful of Facebook employees manage communications just for him, helping write his posts and speeches, while an additional dozen or so delete harassing comments and spam on his page, say two people familiar with the matter.Facebook also has professional photographers snap Zuckerberg, say, taking a run in Beijing or reading to his daughter. Among them is Charles Ommanney, known most recently for his work covering the refugee crisis for the Washington Post. Company spokeswoman Vanessa Chan says Facebook is an easy way for executives to connect with various audiences.

While plenty of chief executive officers have image managers, the scale of this team is something different.
Naturally, Zuck doesn't spend all of his free time smooching on Texas babies. So what's he doing in between the professional photo shoots, Dothraki feasts, and playing cuddly tech oligarch for "ordinary" Americans? Well he's suing native Hawaiians to get off his 700-acre, $100 million estate on the Hawaiian island of Kauai, of course.
As reported by the
Daily Mail:
Mark Zuckerberg is suing Hawaiian families in an attempt to get them to sell their land to make his 700-acre property more secluded, a Honolulu newspaper reported Wednesday.

Almost a dozen of small parcels on the Facebook co-founder's $100 million Kauai property belong to Hawaiian citizens who acquired them through legislation dating back to 1850, called the Kuleana Act, according to the Star Advertiser.

As such, these land owners are allowed to walk through Zuckerberg's domain. But the billionaire is believed to have filed lawsuits against a few hundred people in the hope that they will sell their parcels at a public auction.

Using the law to induce land sales, which isn't uncommon in Hawaii, can be viewed as problematic because it severs the native Hawaiian community's link to ancestral land.

Zuckerberg is believed to have sued a few hundred people via several companies that he controls, the Star Advertiser reported. Some of these people, who inherited or owned interest in the land, are dead.

Similar auctions have in the past led to below-market sales, but according to the Star Advertiser, some of those involved in the Zuckerberg cases believe the billionaire will offer a fair amount of money.
I know that's a lot to take in, so let me end this post with a little humor.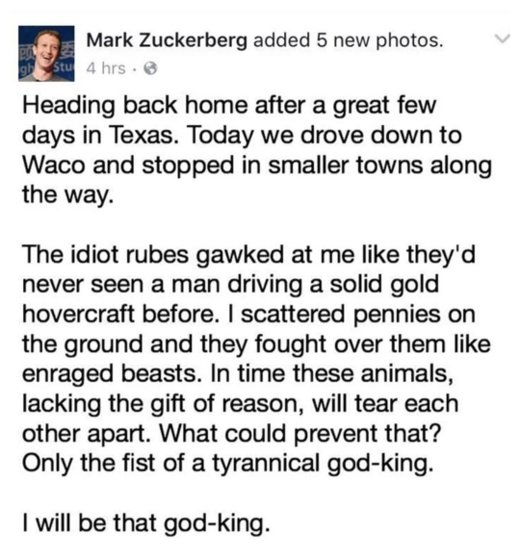 No, that's not real.
In Liberty,
Michael Krieger