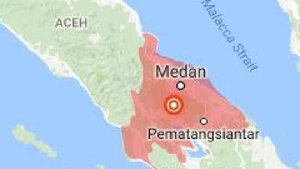 A shallow earthquake rattled Indonesia's third-largest city Medan, damaging houses and sending thousands of frightened people into the streets.
There were no immediate reports of casualties.
The U.S. Geological Survey estimated the quake's magnitude at 5.7 and said it struck at a
depth of 10 kilometres
southwest of Medan on the island of Sumatra.
There was traffic chaos on the streets, people ran out of buildings and power blackouts hit some areas.
Susanti, a guest at a hotel in Medan, said by phone that she and dozens of other people fled outside as the quake struck.
"I saw utility poles swaying. It was so scary," said Susanti, She said there was no visible damage to the hotel.
The National Disaster Mitigation Agency's spokesman Sutopo Purwo Nugroho said several houses were damaged but there no immediate reports of casualties. Arif Cahya, an official at a monitoring post for Mount Sinabung near Medan, said there was a report of a house damaged in an area village. He said there were no reports of casualties.
Indonesia sits on the Pacific Ring of Fire and experiences frequent earthquakes and volcanic eruptions.