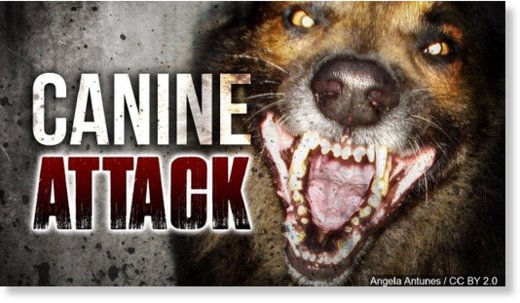 The number of dog attacks in Wollongong has continued to drop in recent years,
but according to the latest figures, serious attacks on people - where injuries needed medical treatment or hospitalisation - have gone up 85 per cent in one year.
Despite a small drop in the total number of attacks - from 229 to 225 attacks - only two council areas in NSW had more dog attacks than Wollongong.
Additionally, the latest statistics from the NSW Office of Local Government show
more than 150 residents in the area were injured by dogs in the year to March 2016.

Fifty-two of these injuries were classed as serious, compared to only 28 classed as serious in the previous year.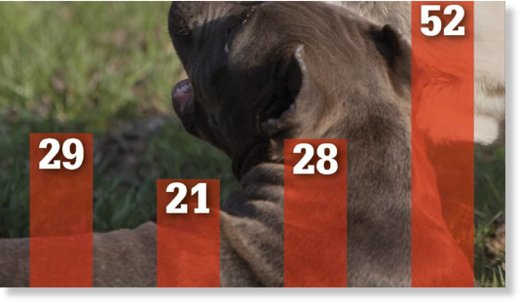 Only Newcastle and Gosford council recorded more attacks overall, meaning Wollongong jumped to third worst in the state after being ranked fourth in previous years.
However, this may be because Blacktown council - which has previously recorded the most attacks in the state - did not report figures for two of the four quarters in the year between April 2015 and March 2016.
Wollongong's high number of dog attacks may partially be explained by the high number of registered animals - there were more than 52,000 dogs registered at last count.
However, the city also has a worse than average attack rate, with one attack for every 1001 dogs registered in the last reported quarter.
The state average was one attack for every 1819 dogs.
A council spokeswoman noted the number of dog attacks compared to the number of microchipped dogs in Wollongong was small, but said "it is still too many".
She said the council had put in place several initiatives, including working with police and the Department of Housing to address reporting and the keeping of dangerous, menacing and nuisance dogs
Additionally, in 2016, the council changed the way it polices the movement of dogs at beaches and park appointing three foreshore rangers to enforce and educate people about it's new policies.
However this appears to have had little effect on the number of canine attacks, as the number of dog attacks on beaches and in off-leash was so small.
Only 26 attacks in 2014/15 and 25 in 2015/16 occurred in these areas.
"The overwhelming majority of dog attacks occurred within private property, outside of the dog's residence or on a road/footpath area," the council spokeswoman said.
"The settlement patterns of our LGA means the majority of dog attacks occur in urban areas, outside of our city centre and high density areas."
Humans weren't the only victims, with 175 animals attacked by dogs in Wollongong.
Elsewhere in the Illawarra dog attacks remained much lower. In Shellharbour there were 35 dog attacks in total during the 12-month period, while in Kiama there were just 14.
In the three months to March, the top three attacking dog breeds across NSW were Staffordshire bull terriers (117 attacks), American Staffordshire Terrier (86) and Australian cattle dogs (68).