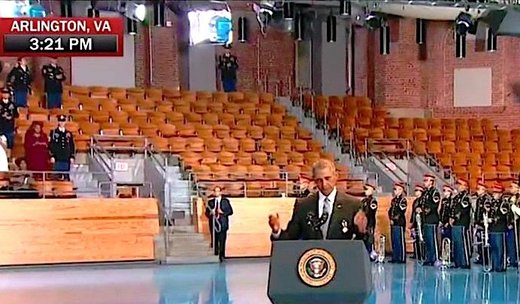 Barack Obama despite the mainstream media and liberals' claims that he was a great Commander-in-Chief, the very people that served under him for eight years just
proved that their claims were wrong.
Who better to give a rating of how poor Obama has been as Commander-in-Chief than the very men and women that have had to put their lives on the line for our country under the control of Obama?
Well during a ceremony earlier today at Joint Base Myer in Arlington, Virginia Barack Obama was given the
Department of Defense Medal of Distinguished Public Service
, the best part comes when you look at the "enormous" crowd that came out to see the event. Rows and rows of empty seats were there to greet Obama and there couldn't be a more fitting send off for the lame duck president.
Barack Obama not only had some of the worst foreign policy our country has ever seen, the non-legally binding Iran deal that the Democrats hailed as the best thing since Christmas, sorry "holidays" that doesn't actually mean anything in reality.
The brave men and women that protect our country from threats and terror don't support their Commander-in-Chief and there are hardly any greater insults than that!
Our military just let Obama know what they really thought of him.
Share this everywhere to show how "popular" Obama really is!