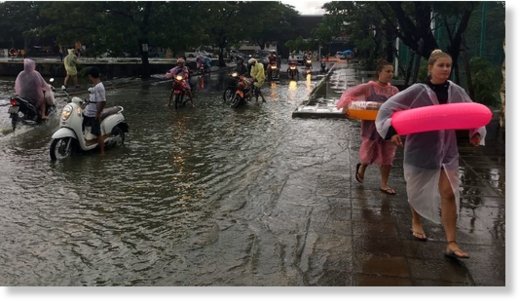 Flooding has affected at least 8 provinces in the south of Thailand. Thousands have been affected and at least 6 people have died.
The rains - unusually heavy for this time of year
- have been falling since around 31 December, 2016.
Nakhon Si Thammarat recorded more than 300 mm in one day.

Forecasts say that more rain is expected over the coming 48 hours.
This is the second deadly flood event within a month in south Thailand. At least 11 people died and 350,000 were affected after flooding struck southern provinces in December 2016.
Thailand's The Department of Disaster Prevention and Mitigation (DDPM) is preparing to provide assistance to the thousands of victims currently affected by flooding in the southern provinces.
Flooding has been affecting parts of the south since 01 January, 2017 after a period of heavy rain which has also affected parts of north east Malaysia where a
s many as 25,000 people have been forced to evacuate their homes.
DDPM Deputy Director-General Korpchai Boonorana said that,
as of 06 January, a total of 64 districts remain inundated across the provinces
of Nakhon Si Thammarat, Trang, Phatthalung, Songkhla, Pattani, Yala, Narathiwat and Surat Thani.
Officials have been monitoring the situation and providing disaster relief as needed. Local residents have been advised to closely follow any official announcements or instructions from the government.
AFP reports that Thailand's Interior Ministry said in a statement that 6 people have been killed and at least 120,000 households have been affected. Flights have been delayed and train travel severely disrupted.
Earlier today Prime Minister Gen Pratyut Chan-o-cha visited Narathiwat province to observe the flood situation in the area.
More rain expected
Further heavy rain is expected in southern Thailand until at least 08 January, 2017, according to forecasts by Thai Meteorological Department (TMD). In their latest
recent weather warning
of 06 January, TMD said:
"The strong northeast monsoon still prevails over the Gulf of Thailand and the South, and the active low pressure over the lower Andaman Sea. Persistent rains are forecast with torrential rain for following provinces: Phetchaburi, Prachuap Khiri Khan, Chumphon, Surat Thani, Nakhon Si, Thammarat, Phatthalung, Ranong and Phangnga. People should beware of the severe weather conditions and possible flash flood. Keep following closely the weather forecast update.

"Rainfall in the southern in province of Songkhla, Pattani, Yala and Narathiwat began to decline in the overall situation in the South, rain will fall on January 8, 2017."