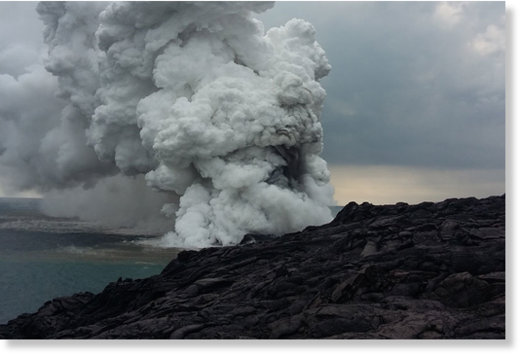 Twenty-six new acres of Hawaii Island at the Kamokuna ocean entry from the 61g lava flow has collapsed into the ocean. It occurred on December 31, 2016, at 2.45 P.M on New Year's Eve.
According to
HAWAI'I,
the incident took place at Hawaii Volcanoes' National Park.
This incident is launching showers of volcano rock into the air, and creating a flurry of large waves that eroded away a portion of the older sea cliff and viewing area.
As a result of this, the Kamokuna ocean entry within the park remains closed on Monday. The park rangers and USGS Hawaiian Volcano Observatory have currently surveyed the area to determine if and when it will be safe to reopen to visitors.
As per the report from
KHON2,
five visitors ducked beneath the white rope closure line and made a beeline for the coastal cliff around 7 p.m on New Year Eve. The Crew ranger Travis Delimont and the co-worker had to chase after them before they turned around.
The section of the cliff where the visitors were standing crashed within 15 minutes into the ocean. Delimont reported, "Luckily, they finally listened to us and turned around in time". Fortunately, there were no aircraft or boats in the area at the time of the collapse.
The collapse has created large waves that caused older parts of the sea cliff, including a designated Hawaii Volcanoes National Park viewing area, to erode and wash away.
However, no injury has not reported so far, park officials said," there were no hikers on the cooled, black lava, or tour helicopters overhead at the time of the late afternoon collapse.
U.S Geological Survey has reported that molten lava from the Kilauea Volcano made a big splash when it reached the ocean in late July for the first time in nearly three years.
Meanwhile, the scientist is continuing to monitor activity from the newest lava flow called "61g".