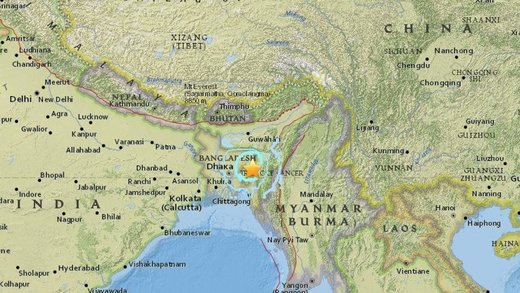 One women was killed and few other injured when a moderate earthquake measuring 5.7 magnitude on the Richter scale hit Tripura on Tuesday, triggering landslides in the hill state and jolting the country's northeast region.
There was no report of any major damage from other states, officials said.
The epicentre of the quake was Dhalai in northern Tripura at a depth of 28 km.
Kamalini Kanda, 50, died of heart attack out of fear during the tremor at Kamalpur in Dhalai district in Tripura, an official of the Tripura Disaster Management Centre said.
Five other people were injured in different parts of the state during the quake.
The official said at least 50 house were damaged, some badly, as landslides occurred in different places of Dhalai district. The earthquake blocked roads after trees were uprooted.
The quake hit most states of the northeastern region at 2.39 pm, triggering panic.
Cracks developed in some old buildings, including a few police stations, in Kamalpur and Salema in Dhalai district.
The US Geological Survey said the tremor measured 5.5 on the Richter scale but Indian Met Department said the intensity was 5.7, Bangladesh's online news agency bdnews24 reported.
The tremor lasted four to five seconds.
More details are awaited.
Source: IANS