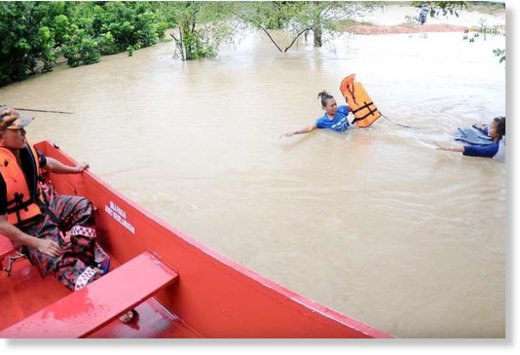 Floods sweeping the state constituency of Telemong have been described by residents as the worst in 30 years.
For Isa Kassim, 65, of Kampung Kuala Ping, the deluge reminded him of another major flood in 1986.
"At that time, my children were still young, ranging from one to four years. I waded through flood waters carrying my three children, while my wife had to struggle with flood waters up to her neck.
"At that time, my family and I evacuated at 9pm, as we did not expect the water to rise so fast. Only Allah knows how we fought the swift waters to save our children," he said when met by Bernama here yesterday.
Isa, who is a retired civil servant, said at that time, facilities were still lacking and many villagers had to seek shelter at the nearest neighbour's or relative's house.
"I moved to my uncle's house. We stayed and ate at his house, as there were no evacuation facilities then.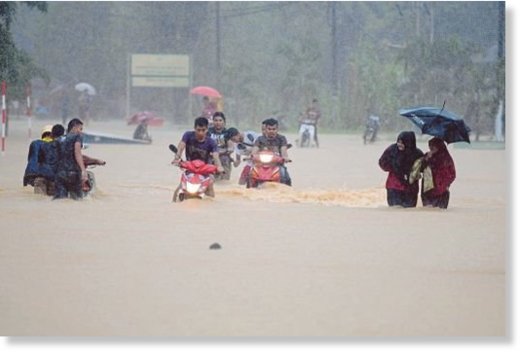 "The flood today is even bigger than in 1986. The water rose very fast. In less than two hours,
water had entered our house. But we decided to move earlier, for fear the water would rise further," he said.
Teh Mamat, 78, of Kampung Tengkawang, said she could not save her things in her house as she was away, visiting her son in Felcra Bukit Kepah.
"My neighbours phoned me, but I was not in the house then and could not salvage anything. The flood is quite bad. In 2014, it was not like that," she said.
Teh said despite having to evacuate to a relief centre, she is content, as the facilities provided are adequate and comfortable.
"In the past, we were forced to move into any neighbour's or relative's house which was not affected. Today, everything is provided at the shelter," she said.
A Bernama survey at the constituency found evacuation and rescue operations are still being carried out.
Firemen and Civil Defence Force personnel equipped with boats were seen assisting victims to move to relief centres.
Source: Bernama