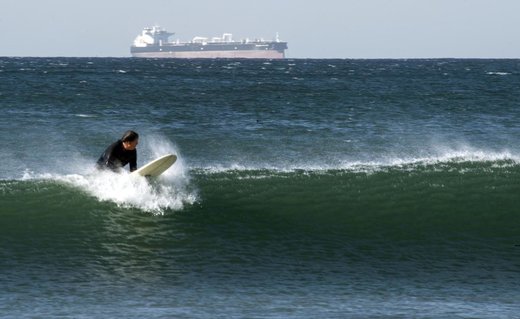 Periodically and unpredictably, mysterious chemical-like fumes drift into Rhonda Wainwright's home not far from Huntington Beach Central Park.
The noxious odors have induced headaches, burning of the eyes and throat, nosebleeds and vomiting
, she says. Even her dog and two cats have retched during the malodorous episodes that "about knocks you on your knees," Wainwright said.
Roughly 10 miles away in coastal Seal Beach, resident Susan Perrell reports suffering similar foul odors. Perrell, an environmental adviser to an oil and gas company, also describes a petroleum-like stench that can be intense enough to "knock you over."
Their experiences are far from isolated.
Last month, air-quality regulators saw a spike in such complaints in the Huntington Beach and Seal Beach area. Over several consecutive days, the South Coast Air Quality Management District fielded dozens of calls involving
"a nasty egg odor (or a) petroleum odor,"
said agency spokesman Sam Atwood.
Comment:
Hydrogen sulfide
is a colorless gas with the characteristic
foul odor of rotten eggs
; it is heavier than air,
very poisonous
, corrosive, flammable, and explosive. Exposure can lead to various health problems, and may be fatal. It is also being linked with
psychological and neurological
problems in humans.
Residents also have lodged complaints with fire officials, the gas company and others, seeking help in pinpointing the source of the smells,
which many say have increased in frequency and intensity over the past two years
.
But no one has identified a definitive cause or culprit.
The situation has been "frustrating for residents and difficult for us," Atwood said.
In response to complaints, the air-quality agency has repeatedly dispatched investigators to the coastal cities from its Diamond Bar headquarters and Corona, according to residents. But by the time they arrive, the odor usually has dissipated.
It's unclear whether the agency has collected any air samples from those calls.
Over the years, authorities have offered a variety of unsubstantiated theories to explain the odors, including offshore oil wells, smaller refineries, tanker ships along the coast and
naturally occurring methane "burps" from the ocean floor
, residents say.
The head of a state oil and gas trade group suggests the cause of the recent odors are natural.
Typically, residents have been assured by officials that the odors are innocuous.
"I was told the same old story:
'It is an offshore release; it won't harm you; there is nothing we can do about it anyway,'"
said Wainwright, referring to responses from the Fire Department.
But several converging factors have heightened neighborhood anxiety in recent weeks and months.
Some people are reporting they've become ill from the odors. And recent high-profile cases of toxic odors in other Southern California communities - and complaints of sluggish government response - have increased uneasiness about officials' assurances that the odors don't appear to be a health concern.
Huntington Beach resident Adam Plesniak, who says the odors have caused him headaches, cited the continuing controversy in Los Angeles' Porter Ranch neighborhood, where residents became sickened by contaminants from a massive natural-gas leak. Complaints of headaches and nausea were initially downplayed by authorities, but later prompted evacuations and cleanup of thousands of homes.
"These issues are not remedied without significant community pushback," said Plesniak, who is leading an online petition to draw attention to the local odor issue.
In addition to residents, Kelly O'Reilly, an environmental scientist based in the Bolsa Chica wetlands, reported a particularly intense petroleum odor at her office on Nov. 15.
It was so pungent she immediately alerted a nearby oil operation, which assured her it wasn't the cause and seemed puzzled about the origin.
"It was not an organic smell," said O'Reilly, who has worked at the wetlands for about a decade. She suspects the Nov. 15 odor came from the oil-and-gas industry and "was chemical," she said.
Huntington Beach Fire Marshal and Division Chief Bill Reardon, a 20-year Fire Department veteran, said such odor complaints tend to be "cyclic" and that the odors are more of a "nuisance and irritant" than a serious health concern. Reardon said crews that have responded to such calls haven't seen the need to evacuate homes or call in hazmat teams.
He does not know the cause of the odors but said the department will continue to respond to complaints. Reardon also said residents should file complaints with the air-quality management agency, which has jurisdiction over such issues.
Investigators there have pursued one potential explanation, Atwood said.
Last month, the agency received a call from an offshore shipping company indicating it was about to depressurize its vessel, which would mean a release of emissions, Atwood said. Thus far, investigators have been unable to reach the shipping company to further investigate, he added.
If the source turns out to be offshore, the regional air-quality agency would not be responsible for enforcement, Atwood said. Southern California air-quality officials plan to work with the federal Environmental Protection Agency and U.S. Coast Guard to "effectively track down potential sources" offshore, he said.
Several state and federal agencies contacted by the Register over the past two weeks, including the EPA, Coast Guard, state Air Resources Board and State Lands Commission, said they weren't aware of the surge of local odor complaints.
If the source of the odor is within 3 miles of shore, then the Lands Commission, which handles oil and gas leases, and Coast Guard would handle the complaint, said Don Drysdale, a spokesman for the California Department of Conservation.
Its Division of Oil, Gas and Geothermal Resources would also be involved if a regulated facility is the confirmed source, Drysdale added. The division permits and inspects offshore and onshore oil wells.
Records of past inspections and any violation notices involving oil and gas facilities in the area were not immediately available from the state regulatory agency.
Rock Zierman, CEO of the trade group California Independent Petroleum Association, said oil and gas operators must comply with more than two dozen air-quality regulations in Southern California.
"These safeguards are in place so that regulators and operators can pinpoint if there is a problem, as well as rule out facilities in cases, like this, where it appears to be naturally occurring causes," said Zierman in a statement.
Richard Hart, who has lived in Huntington Beach for about four decades, says he's tired of the finger-pointing.
It seems like "the government doesn't want to deal with it,"
Hart said.
Gina Clayton-Tarvin, a Huntington Beach resident and president of the board of trustees of the Ocean View School District, is familiar with the uphill battle sometimes required for communities to resolve concerns about air-quality and possible health issues.
She and other board members battled Rainbow Environmental Services, a trash hauler that contracted with the school district, over complaints of odors, dust and other problems. Eventually the AQMD cited the company, and the school district ended the contract this year.
The odors reported in Huntington Beach and Seal Beach are trickier to combat.
"It's very hard to organize against a phantom enemy," Clayton-Tarvin said.