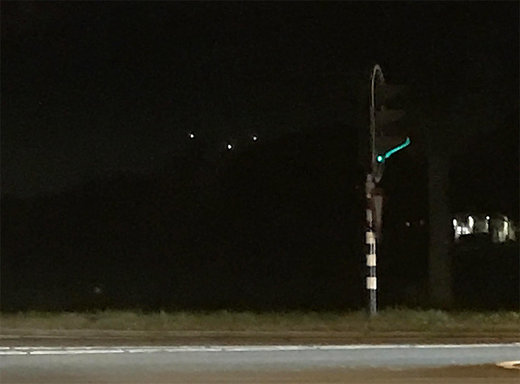 In late November 2016, the Dutch reporting center '
UFO Meldpunt Nederland
' received a dozen reports of a triangle UFO. Reports came from southern, eastern, and western parts of the Netherlands.
One report (with attached pictures)
posted
on November 24th reads:
I was driving on the ring road in Houten, when extremely large lights on a triangle object, which was the size of at least 6 soccer fields, gently flew over. Several people were watching it at the side of the road. It flew very low, made no sound, and seemed to reflect. This was too large to be a human object, I was also doubting whether what I saw was real. Eventually I was able to take pictures at the side of the road, unfortunately from further away. At that time, helicopters were flying in that direction and a jet fighter which were, in comparison to the object, quite small. I estimate the height from the ground to be around 300 meters (not higher). http://imgur.com/a/PyIQ8 <- Here are the photos.
Another witness wrote that he saw three lights on November 27th while he was driving on the highway A12 heading towards Utrecht. The witness
reported
he saw three lights of which one was blue, and the other green. He added that the lights formed a triangle and that the object appeared very large.
News outlet
Telstar-Online
writes
that a triangle UFO was seen in Gilze, Aarle-Rixtel, Utrecht, Almelo, and Pijnacker-Nootdorp. While the pictures as well as
one video
recorded by one of the witnesses may not be hard evidence, it is interesting that these reports came in over the same period, describing similar details. These allegedly seen objects were however not the only phenomenon that raised people's eyebrows.
Mysterious 'Smoke Rings'
A mysterious smoke ring was spotted in the sky above IJburg, Amsterdam, on Friday October 21st 2016. The Royal Netherlands Meteorological Institute has
said
that they don't know what it exactly is. They suspect that it's a ring formed by smoke emission, a so-called 'vortex puff of smoke'. However, there were no reports of a fire in the city and weather conditions were normal.
Nine days later, another smoke ring
appeared
in the sky. This time in Hellevoetsluis. According to a radio show called
Dossier Mastenbroek
, dozens of people saw the ring.

Could there be more to these cloud rings than meets the eye
? Or is there a natural explanation for this phenomenon?