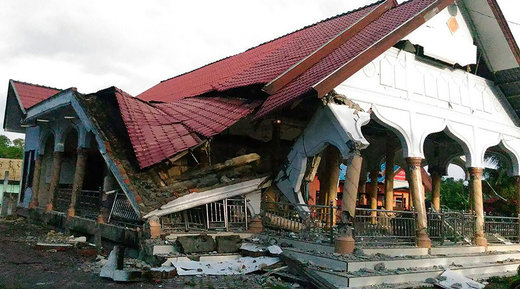 More than 20 people have been killed and many are feared trapped under the rubble of collapsed buildings after a powerful 6.5 earthquake struck off Aceh province on Indonesia's Sumatra island, according to officials.
A press officer at the provincial disaster agency said that more than 20 were killed, according to Xinhua news agency.
The Vice Regent of Pidie Jaya, Said Mulyadi, told MetroTV news that there may be as many as 20 dead and 40 injured.
The Red Cross put the number of fatalities at 20.
At least 30 earthquake victims, most of them suffering from fractures caused by falling buildings, are being treated in hospitals at Pidie Jaya, the Volunteer Center of Communication (Senkom)
said
.
The National Disaster Management Agency (BNPB) confirmed that "several buildings" collapsed, including at least 10 shops and four houses in Pidie Jaya, which lies in the Aceh special region of Indonesia. Electric poles and a mosque in Bireuen district were also damaged, BNPB said.
While no tsunami warning was issued, the powerful earthquake caused heavy structural damage, with reports of casualties coming in.
"Several shophouses and homes have caved in in the Pidie Jaya district and the owners are still trapped there," the chief of the local disaster management office, told AFP. "We are now deploying heavy machines to help out and hopefully we can save the ones who are trapped."
Indonesia is accustomed to earthquakes as the country sits on the Pacific "Ring of Fire" in the Pacific Basin. In December 2004, a massive earthquake off Sumatra island triggered a tsunami that killed some 230,000 people in the region.
In December 2004, 170,000 people died in Indonesia after a 9.1 magnitude earthquake struck off the northern tip of Sumatra, lasting for nearly 10 minutes and triggering a tsunami.