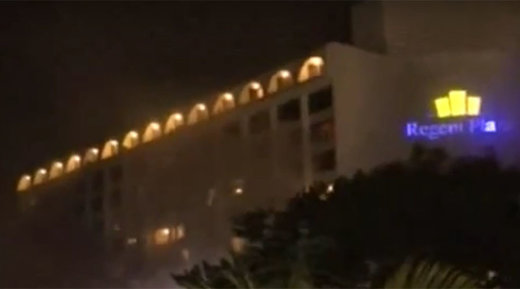 A massive fire at a hotel in Karachi, Pakistan, has killed at least 11 people, according to officials cited by AP. More than 50 others, including foreigners, have reportedly been injured.
The fire began in the hotel kitchen in the early hours of Monday, according to police officer Tauqeer Naeem.
The exact cause of the fire is not yet known.
Some of the deaths were caused by suffocation, according to Dr. Semi Jamali of Jinnah's Hospital in Karachi.
At least 65 people were brought to the emergency department, Jamali told local outlet
Dawn
. Among the patients were people who had fractured bones after jumping from windows, those who had been hurt by shattered glass and many who had suffered from smoke inhalation.
Jamali said that foreigners are among those being treated for burns.
Thirty of those injured are in critical condition
, Jamali said, noting that the death toll is expected to rise, Xinhua reported.
Senior police official Saqib Memon said the fire has been extinguished, and a search-and-rescue operation is under way inside the hotel.
The hotel had "no fire exits or fire alarms,"
according to Karachi Mayor Waseem Akhtar, as quoted by
Dawn
newspaper.