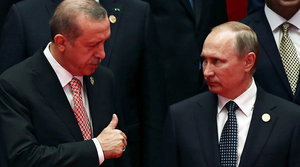 Financial Times provides confirmation that as claimed by The Duran in early November Turkey is brokering talks between Russia and the Jihadis in eastern Aleppo for them to surrender the eastern districts of the city.
Back on 2nd November 2016 I wrote a
piece
for The Duran in which I said that all diplomatic contacts with the US over Syria having completely failed, the Russians were trying to negotiate the surrender of eastern Aleppo with Turkey.
This is
what I said
:
"Having despaired of getting the US to separate Al-Qaeda/Jabhat Al-Nusra from the other Jihadis in Aleppo, and getting them to withdraw, it is likely the Russians are trying to agree the same thing with the Turks. Indeed [General] Gerasimov's [Russia's Chief of General Staff] comments today essentially say as much."
Today there is
confirmation
from the
Financial Times
that such talks in Ankara are indeed underway. Here is what it reports:
"Syrian rebels are in secret talks with Russia to end the fighting in Aleppo, according to opposition figures, a development that shows how the US could become sidelined in some of the Middle East's most pivotal conflicts.

Four opposition members from rebel-held northern Syria told the Financial Times that Turkey has been brokering talks in Ankara with Moscow, whose military intervention last year on the side of President Bashar al-Assad helped turn the five-year civil war in the regime's favour. Russia is now backing regime efforts to recapture the rebel's last urban stronghold in Syria's second city of Aleppo.

"The Russians and Turks are talking without the US now. It [Washington] is completely shut out of these talks, and doesn't even know what's going on in Ankara," said one opposition figure, who asked not to be identified because of the sensitivity of the negotiations."
Importantly the Russians are not denying the talks. Maria Zakharova, the Russian Foreign Ministry's formidable spokeswoman, responded to questions by the
Financial Times
about the talks
as follows
"Washington isolated itself. We've been negotiating with the [Syrian] opposition in Turkey for years — it's not news."
The
Financial Times
misunderstands the negotiations which are underway. It quotes Charles Lister, a Syria expert at the Middle East Institute in Washington, as explaining Russia's intentions in this way
"Russia is hedging its bets. It would prefer to make a deal with the opposition. If Aleppo were to fall, the Syrian regime would need so many troops to hold the city that its forces would be left thin elsewhere in the country — or dependent on Iranian help, which Moscow would prefer to avoid."
This is certainly wrong.
As The Duran has been reporting ever since September, the consistent Russian demand, and the key provision of the unsuccessful Kerry-Lavrov agreement of September, is that
all the Jihadis fighters must quit eastern Aleppo
, which must be surrendered to the government.
It should hardly need saying that
Aleppo would be far more defensible without any Jihadi fighters there
, rather than with Jihadi fighters owing allegiance to terrorist organisations like Al-Qaeda and ISIS still in control of some of the eastern districts of the city.
Charles Lister's analysis is, I am sorry to say, just another example of the wishful thinking and failure to assess realities in Syria objectively which has beset Western understanding of the conflict in Syria since its start.
It is precisely because the Russian demand is for the Jihadis to quit eastern Aleppo entirely that the talks have according to the
Financial Times
made little progress. It seems that the Jihadis are still unwilling to take this step, which would mean the end of their plan for regime change in Syria.
Their recent defeat in Aleppo may however mean that even they will finally understand that they have no realistic choice, and it seems that behind the scenes the Turks are trying to get them to accept this as well.
My opinion however remains that the Jihadis in eastern Aleppo are far too committed to their struggle to give up willingly, and that the eastern districts of the city will have to be liberated from their control by the sort of fighting we have seen there over the last few days.
BREAKING: Vladimir Putin calls Erdogan, forces Turkey to back down against Assad
Following telephone conversation with Russian President Putin, Turkish President Erdogan is forced humiliatingly to backtrack on his comments of a day before yesterday that the objective of Operation Euphrates Shield is the overthrow of Syrian President Assad.
Turkish President Erdogan's admission that the ultimate objective of Operation Euphrates Shield is the overthrow of Syrian President Assad has provoked fury in Russia and a very strong reaction from the Russians.
Yesterday Dmitry Peskov, President's Putin's spokesman,
made Russia's anger very clear
"The statement was indeed news, this is a very serious statement. [It] is in discord with the previous [statements] in general and with our understanding of the situation. We hope that in the near future there will be explanations on this from our Turkish partners. Before making any judgments, we expect that this position will be clarified."
Peskov also made it clear that Erdogan never said anything to Putin about overthrowing Assad during their telephone conversation on 26th November 2016.
The Kremlin's
account
of that conversation was incidentally extremely short even by the Kremlin's standards, merely saying
"The two leaders continued their exchange of opinions on the situation in Syria."
It is in fact known that what happened was that
Erdogan telephoned Putin to complain about the alleged Syrian air strike on Turkish troops north of Al-Bab
, which the Turks say killed and wounded several Turkish soldiers.
The terse Kremlin account of the conversation suggests that there was a furious row, with Putin reminding Erdogan that unlike Russian troops, who are in Syria
legally
at the invitation of Syria's legitimate government, Turkish troops are present in Syria
illegally
and contrary to the wishes of Syria's legitimate government, and that for this reason the Russians are not in a position to help them.
Erdogan's comments about the Turkish troops being in Syria to overthrow President Assad were almost certainly provoked by this row with Putin. It seems Erdogan came away smarting from his conversation with Putin and - as is his character - tried to save face by saying more than it was wise of him to say.
The result was another furious telephone conversation between Putin and Erdogan yesterday. The Kremlin's
account
is again short and terse
"The President of Russia expressed condolences over the children killed in a fire in a girls' dormitory in the city of Adana.

The presidents discussed current issues of Russian-Turkish relations, including bilateral contacts at different levels in the near future.

They continued their detailed exchange of views on Syria, including the developments in Aleppo."
However on this occasion we have more information about the call from
Putin's aide Yury Ushakov
"I can only say that a telephone conversation between our president and Erdogan took place yesterday, and the topic [of Turkey's presence in Syria] was addressed. Yes, he [Erdogan] gave an explanation."
Comment:
Moon of Alabama
adds a telling detail:
Erdogan and Putin discuss #Aleppo for the third time this week: Disagreement over ceasefire?- November 30

Turkish President Recep Tayyip Erdoğan discussed the grave situation in the Syrian city of Aleppo with his Russian counterpart Vladimir Putin by phone on Nov. 30 for the third time in a week, with the two "agreeing on the need for a ceasefire," presidential sources said.

The sources said the two leaders agreed to step up efforts to stop clashes in Aleppoand deliver humanitarian aid to civilians in the besieged city.

That was the Turkish version of the call. The Russian statement on that call was sparse and did not mention any ceasefire.

Thus this translation from Diplomatese:

"I will take that statement back if you give me a ceasefire deal in Aleppo," Erdogan told President Putin.

"Screw you," was the response.
Today Erdogan has made public what that "explanation" was. Turkish newspaper
Hurriyet
reports
him telling a meeting of village elders at his Presidential palace in Ankara
"The aim of the Euphrates Shield Operation is no country or person but only terror organisations. No one should doubt this issue that we have uttered over and over, and no one should comment on it in another fashion or try to [misrepresent its meaning]."
In other words Erdogan has backed down. After his conversation with Putin he has now been forced to deny the truth of what he said just the day before yesterday: that he is seeking to overthrow President Assad. Instead he is once again being forced to pretend that the objective of Operation Euphrates Shield is not the overthrow of President Assad but the defeat of ISIS and of the Kurdish militia the YPG, both of which he calls "terrorist organisations".
Comment:
More from MoA:
Turkey, Russia see need for Aleppo truce but divisions remain - December 1

Lavrov said the bloodshed must stop in Syria and the region, that Moscow was ready to talk to all parties in the war, and that it would continue cooperating with Turkey. But he also vowed Russia would continue its operations in eastern Aleppo and would rescue the city from what he described as terrorists.

Erdogan's statement, aimed at his supporters in Turkey and elsewhere, created a legal mess for his troops. The attempt to sell a retreat from it for some gain was harshly rejected by Russia. Now all Erdogan could do was to take his statement back with no gain at all. This was quite a loss of face for him - a well deserved one.
...
The game Erdogan tried would probably have worked with Merkel, or some other EU politician. Russia will have none of it. No means no. When Russia says stay out of Al-Bab it means stay out of Al-Bab. With regard to Syria Erdogan now has to do what he is told to do. He was just publicly lectured about that again. Still, I doubt that he really learned the lesson.
In fact the meaning of Erdogan's previous comments of the day before yesterday was perfectly clear. Moreover they undoubtedly spoke the truth - as
Hurriyet
admits. As I have repeatedly said, there is no doubt Erdogan remains personally committed to the overthrow of President Assad. Not only his comments but all his actions confirm as much.
The fact that Erdogan has now been forced publicly to retract on what he said - which was true - and that he has been forced by Putin to do so publicly - must therefore be doubly humiliating to him. It shows how frightened of Putin Erdogan is, and who is the dominant one of the two.
As for the Russians, there is no doubt they know what Erdogan's true intentions in Syria are. By forcing him to deny them in public, they have however demonstrated the extent of their ascendancy over him. That will make it easier for them to keep him in check and under control in future.