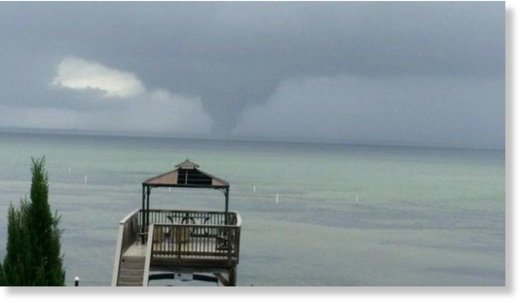 While parts of northern Florida are under tornado watch until 5 p.m. local time, a waterspout touched down near Destin on Wednesday morning.
About 11 a.m., according to
Northwest Florida Daily News,
the waterspout formed and grazed the coast for several miles.
Locals took video from balconies and cars as what they thought was a tornado made its way around the Choctawhatchee Bay.
Great view of the waterspout that formed in the Destin, FL area this morning! #flwx https://t.co/4FsJPqoSrS

— NWS Mobile (@NWSMobile) November 30, 2016
Northwest Florida Daily News
reported damage done in nearby Mary Esther, as the waterspout tore off part of a roof and twisted off thick tree branches.
Another waterspout picture around 11:45am from Mark Hinds in Destin. pic.twitter.com/iCRvuoi60j

— Chris Smith (@smithwjhg) November 30, 2016
Parts of Alabama and Georgia are also under tornado watch.