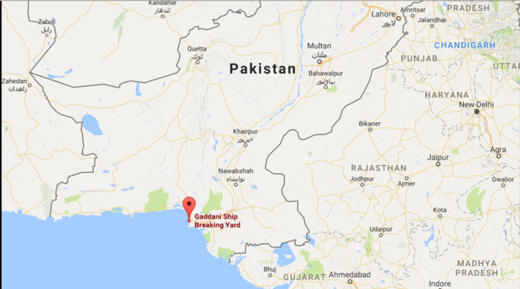 At least six workers have been killed in a series of explosions triggered by a blaze at the Gadani shipbreaking yard in Pakistan. Some 200 others are reportedly trapped inside the yard, with the fire still raging.
"Over 200 workers are trapped inside the shipbreaking yard engulfed by flames,"
Deputy General Secretary of the National Trade Union Federation Nasir Mansoor said, as cited by the
Tribune
newspaper.
Reports vary on the number of casualties.
While the
Tribune
has put the number of fatalities at six, Dunya news agency claims ten workers have died.
Up to 70 others have been injured, local media report, while at least 30 more workers are missing.
The fire started in a dismantled oil tanker that was stationed in the yard, according to DawnNews. Eight explosions occurred inside the oil tanker while the workers were performing gas welding work, and more explosions are now feared due to the fire.
Rescue teams from Balochistan's Karachi and Hub districts have rushed to the scene, along with fire fighters.
However, as
Pakistan Today
reports, only a single fire engine is currently trying to extinguish the fire and has been unsuccessful in doing so thus far.
With 132 ship-breaking plots, the Gadani shipbreaking yard is considered to be the world's third largest enterprise of its kind after Alang in India and Chittagong in Bangladesh.
It is located some 50 kilometers (31 miles) northwest of Pakistan's largest city, Karachi, and spans ten kilometers (6.2-mile) of beachfront.
An average of 100 ships is torn down in Gadani every year producing around one million tons of steel sold mostly domestically to the construction sector in Pakistan.
Accidents are not a rarity at Gadani, as work conditions at the yard are poor and many workers are reportedly unregistered migrant laborers.