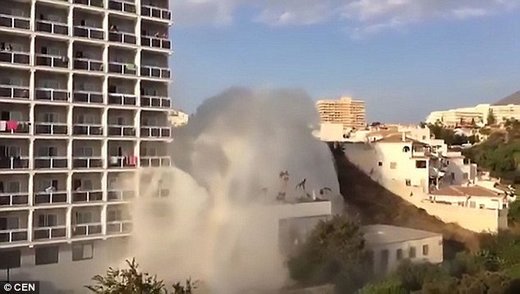 Astonished hotel guests in southern Spain woke to find a 60-foot geyser spouting up beside their sixth storey bedrooms.
Rescue workers in Benalmadena, near the Spanish province of Malaga, say a giant water mains burst sending hundreds of thousands of gallons of water into the air.
The blast of the fracture was so strong, reports local media, that shock waves could be seen off the coast in the sea.
Guests described a 'mini tsunami' sweeping through the Los Patos Park hotel's restaurant during breakfast.
The hotel's reception and gardens were also flooded.
Ironically, the hotel's four water park pools were also damaged as the flood waters swamped them.
A spokesman for local water officials said: 'We are working to solve the problem but the water supply system could be closed for some time.'
Firefighters say people escaped injury because the pipe burst early in the morning, before most people were out in the hotel grounds.
One said: 'As it was very early, nobody was in the water park which was very lucky.
'If they'd been there they might have been dragged along by the flood water.'