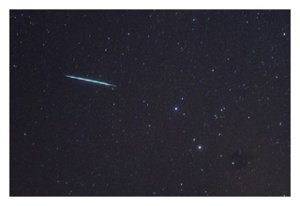 Eyewitnesses said on Monday they saw a meteorite early in the morning, which did not appear to have crashed on the island.
An eyewitness from Nicosia said he had seen a "very bright meteorite" at 6.30am, which was travelling from east to west.
Ioannis Fakas, the honorary chairman of the Cyprus astronomical society, told the
Cyprus Mail
later that he had accounts from two eyewitnesses who also saw the phenomenon while driving on the highway - near Stavrovouni, in the Larnaca district, and Petra tou Romiou, near Paphos.
According to the description provided by the witnesses, the meteorite was smaller than a football and it travelled at an altitude of around one kilometre.
There were no reports of it crashing on the island.
Early last month, residents of the mountain villages of Fasoula, Avdimou and Ayios Theodoros Agros called the police reporting a bright light and loud bangs believed to have been caused by a meteorite.
Police said they received reports of explosions from the higher regions but could not find anything despite their investigations.
Parts of the meteorite were thought to have fallen into the sea north of Cyprus.