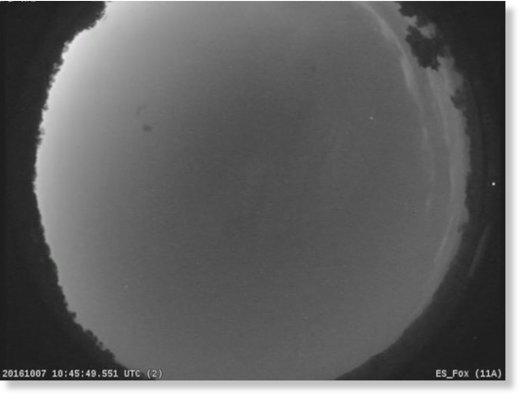 Who saw this one?! Dashcam footage and all-sky cameras caught an amazing long-lived fireball meteor early Friday morning! It must have been seen by hundreds, if not thousands of people, though! Were you one of the lucky ones?
At around 6:45 a.m. EDT, Friday, October 7, a particularly resilient piece of space rock entered Earth's atmosphere over Georgian Bay, and blazed a bright trail across the predawn sky.
Reports submitted to the American Meteor Society - 165 at last update - have come in from locations throughout southern Ontario, and as far away as Kalamazoo, MI, Columbus, OH, and around Syracuse, NY.
Peter Brown, a meteor scientist at the University of Western Ontario, found that the university's network of all-sky cameras had captured a spectacular view of this meteor as it passed overhead.
Long-lived (10 sec), bright fireball over Georgian Bay last night - captured on many of @westernu meteor cameras. @westernuScience #fireball pic.twitter.com/voCTeUO0ao

— Peter Brown (@pgbrown) October 7, 2016
Youtube user DrClockSmasher also caught this one, as he was riding his motorcycle through northeast Metro Detroit.
Another all-sky camera, this one from the E.C. Carr Astronomical Observatory, located between the Blue Mountains and Beaver Valley, near Georgian Bay, captured the event as well.
Video from @RASCTC observatory right under path of last night's bright fireball @westernu @westernuScience #fireball #meteor pic.twitter.com/hhStLFgQYg

— Peter Brown (@pgbrown) October 7, 2016
Peter Brown commented in a followup tweet that this was great timing, as it was caught just before the camera shut off this morning.