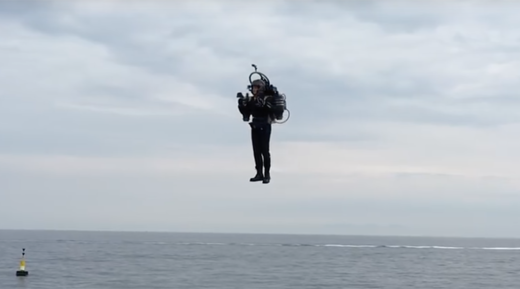 Personal jetpacks could soon be the new way to commute if the latest test flight in the skies over Monaco is anything to go by.
JetPack Aviation completed its third successful test run in Monaco on Saturday without a hitch.
Company CEO David Mayman took a thrilling jetpack ride around the Statue of Liberty in 2015 and this time his outing on the new JB-10 model saw him lifted into the air at Monaco's Océanograpique Museum's heliport.
The company describes its latest jetpack model as "the most technically advanced personal flying machine ever created."
Mayman enjoyed a leisurely ride above the sea as people watched in what the entrepreneur described as "the culmination of years of work," adding that "today is just the beginning."
The JB-10 jetpack uses two turbo jets catering for speeds of up to 88kph (60mph) and a current flight time of up to 10 minutes. It also consumes less fuel and runs at a cooler temperature than previous models, the company says.
"JetPack Aviation is already working on a personal flying machine that will be so safe and simple to operate, it could be used by average commuters in daily life," Mayman explains.
"We have just proved that personal flight is a reality, it is here now, and we will stay at the forefront of this exciting new industry," he adds.
The Australian entrepreneur is currently touring Europe along with JetPack Aviation's top designer Nelson Tyler.