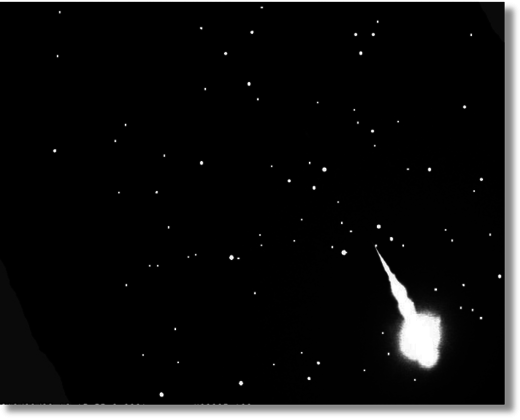 A small meteor fell from space and landed in Abu Dhabi after being spotted streaming through the night sky.
The UAE Astronomical Cameras Network (UACN) said the rock - which measured fewer than 3cm and weighed no more than 20 grams - landed in an area of land to the west of Abu Dhabi Airport near Khalifa City on Friday.
Earlier, the International Astronomical Centre (IAC) in Abu Dhabi tweeted pictures of the fireball at 8.15pm.
"The fireball watched by many people and recorded by our station's cameras," the centre said in a tweet.
"We estimate the fireball between 5 to 20 grams only, just like a small rock. It's a natural orb.
"The fireball was from a meteor. What reached the earth was only a small rock between 1 to 3 cm."
The centre said that the meteor was travelling at 22km per second.
David Fox, 49, a resident of Reem Island, was among those who caught a glimpse of it.
He told 7DAYS: "
I was sitting on the balcony, on my building at the very end of Reem Island, and I saw a big flash across the sky. My wife has seen a few over the last few nights too."
The cameras network is a joint-operation between the IAC, the UAE Space Agency and other agencies.
It consists of sky-pointed cameras located at several locations in the UAE. The cameras automatically begin recording once a fast-moving object is detected in the sky.