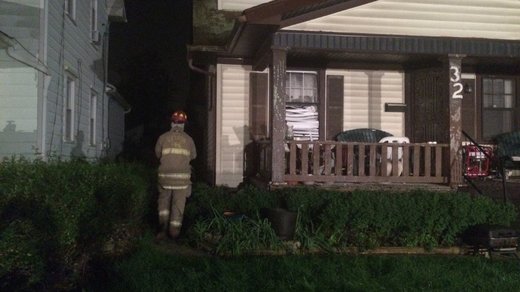 An explosion knocks a home off it's foundation and leaves an 83-year-old woman homeless.
Firefighters believe a furnace is to blame.
"It was kind of scary," said homeowner Kattie Gamble.
Eighty -three-year-old Kattie Gamble 's Ethel Street home, of 56 years, exploded overnight.
"I lit the furnace today because it got so chilly in there, I lit the pilot," said Gamble.
Then she fell asleep.
"I was laying in there on the couch sleep and all of a sudden all this crashing noise came down," said Gamble.
She saw flames coming from the basement.
"So I took the hose and put those clothes that were burning, I sprayed water on them put them out," said Gamble.
Windows were blown out and there was light smoke when firefighters arrived.
"
After crews investigated they found that the back wall of the structure was dislodged
," said Dayton Fire Department Captain Mike Fasnacht.
The back wall is now two to three feet off the foundation.
Firefighters believe a gas explosion from the furnace probably caused it.
A family friend said there was also a problem with the furnace earlier this year.
"It blew up and burned her, legs and arms and hands ," said friend Derrick Flowers.
Experts said situations like this underscore why it's so important to have your furnace cheeked out before turning it on.
"You should do it twice a year. Once for heating and once for cooling.", said Logan AC & Heat Services Senior Service Technician Chris Cantrell.
He said older furnaces have pilot lights like Gamble's furnace.
"You're talking before 86. They're e not very common. I would say about 20 percent of people still have a furnace like that in their house," said Cantrell.
He recommends "Service your equipment before you use it and then possibly even upgrading to something a little bit more efficient that doesn't have a pilot light," said Cantrell.
It could keep you safe.
The service tech said it's about $100 dollars to get your furnace serviced.
He said in the long run it's cheaper than repairing an exploded house.