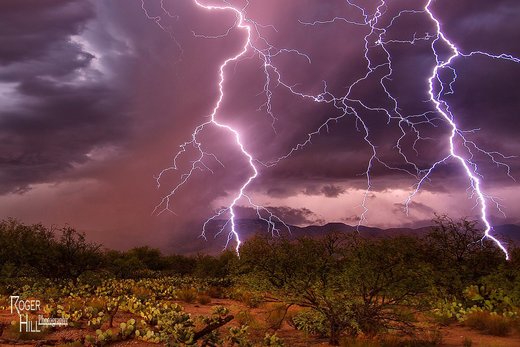 "You could hear the crackle and sizzle in the air," said Roger Hill, after the lighting bolt exploded from the desert sky.
Hill, a veteran storm chaser, was leading a photography tour in Arizona's desert at the height of the monsoon season in late July.
Hill and his group were watching a storm that had flared up over Kitt's Peak, about 55 miles southwest of Tucson, notorious for spawning monsoon storms.
As the storm collapsed, a cool wake rushed in their direction. This outflow then clashed with the hot desert air, initiating convective currents. Very quickly, a new storm erupted. "It formed almost right on top of us," Hill said.
Then the lightning struck and the thunder roared simultaneously. "It was instantaneous and it was extremely loud," Hill said. "It hit about 100 yards away."
Hill was still photographing the weakening storm on Kitt's peak in the distance but, as his camera was set to take long exposures, he fortuitously captured the bolt from this nascent storm at close range.
"That bolt was the first lightning bolt that that storm produced," Hill said. "That first lightning bolt is the one that's most dangerous because you're not expecting it."
As close as Hill was to this lightning, he has had even closer calls in his 30 years chasing storms in both the Southwest and Plains. "I actually got knocked down once by a lightning bolt that fried my camera," he said.
Each year, scores of sky-watching enthusiasts are drawn to the Southwest desert to photograph the soaring landscape and dramatic storms.
Hill's company,
Southwest Photography Tours
, takes attendees into the field and teaches them about storm formation, and storm and landscape photography.
You can view more of Hill's work at his website:
Roger Hill Photography
.