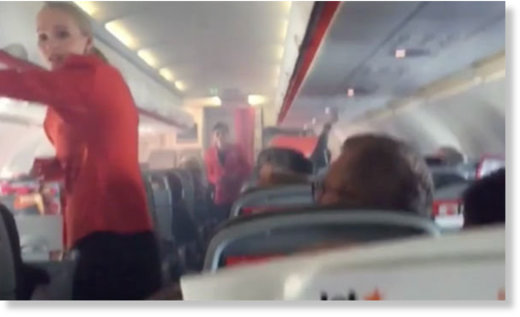 Video footage shows the cabin crew and passengers on a Jetstar flight panic as smoke appears.
One air hostess appears to be looking out the windows and another is on the phone trying to contact someone.
Passengers can be seen looking around as hazy spoke appears during an emergency landing.
At one point the overhead lights can be seen flickering on and off.
The flight from Sydney to Cairns in Australia, which departed at 3.40pm on Thursday, had to be diverted to Brisbane.
According to a statement on the airline's website, flight JQ956, encountered an issue with one of it's engines.
The Sydney Morning Herald
reported that passengers heard a scraping noise as the aircraft began to fill with smoke.
A Jetstar spokesperson told the
Herald:
"The captain decided to shut down one of the engines as a precaution and divert the aircraft to Brisbane."
There was no emergency declared when the plane landed at Brisbane and no passengers were injured.
Engineers investigating the cause said the smoke entered the cabin through the air conditioning system.
The spokesperson added: "While it is rare for something like this to happen, our crew handled the situation very professionally.
"Passengers were kept informed throughout and were transferred to another flight and arrived in Cairns later on Thursday evening."
The video from inside the plane was uploaded by
Courier Mail
yesterday. Since then it has gone viral clocking up more than 28,000 views.