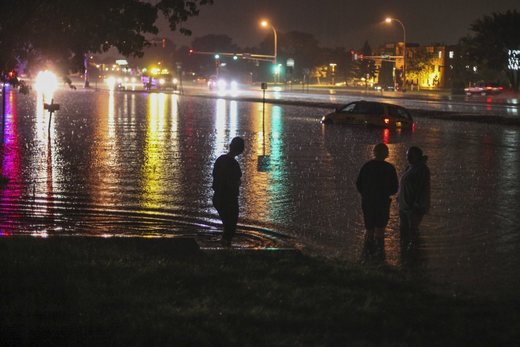 A stationary line of storms dropped heavy rain, with as much as 8 to 10 inches in some areas, paralyzing traffic and sending some cars floating down streets.
Record-setting heavy rain caused widespread flash flooding across the Twin Cities on Wednesday night — and there's more wet weather to come.
Up to 6 inches of rain fell in some northern suburbs in the space of about two hours
Wednesday evening, and a flash-flood warning remained in effect for a narrow swath of the Twin Cities — from Greenfield to Hugo and south to Brooklyn Park, Blaine and Crystal — until 4 a.m. Thursday, according to the National Weather Service in Chanhassen.
One observer reported 9.67 inches of rain on the night
recorded by a backyard weather station in Maple Grove. And in Waseca,
8.2 inches of rain fell in six hours,
the Weather Service said, leading to a flash-flood warning there and in Owatonna until 6 a.m.
Among the roads closed early Thursday by water,
Interstate 90 was shut down between Exit 175 and Exit 179
near Austin, the Minnesota Department of Transportation said.
A flash-flood watch covered a broad area from north of the metro area southeast to the Iowa border and eastward into Wisconsin.
The pounding rain began northwest of the Twin Cities and moved southeast, sending cars floating in intersections from Maple Grove to Brooklyn Park to Minneapolis to Shakopee. Authorities took to social media to plead with people to stay off the roads and, if they were already out on them, to turn around and avoid flooded areas.
Still, emergency crews had to be called in to assist many stranded motorists, whose cars in some cases were almost covered by water during the height of the rainfall and flooding. Even when the water later ebbed on some streets, tow trucks had to be called in to move vehicles rendered inoperable by flooding up to their windows. Vehicles that had pulled off roads to park on yards and shoulders got stuck in mud, and a mudslide closed some lanes of Hwy. 81 in Maple Grove near Fernbrook Lane N.
"Conditions at this time are treacherous and life could be at risk if you unnecessarily leave your safe location," Maple Grove police Capt. Adam Lindquist warned around 9 p.m.
Street flooding was particularly severe in Maple Grove and Brooklyn Park near Interstates 494 and 694, and as the storm moved south, flooding reports flowed in from other areas, including south and northeast Minneapolis, and later, from the area around Waseca, south of the Twin Cities.
No injuries were reported, but car damage was widespread, and at least one house in north Minneapolis was damaged by a falling tree. Lightning was the suspected culprit in a couple of residential fires.
In downtown Minneapolis, the Twins-Tigers game was delayed due to rain, then rescheduled for 1:10 p.m. Thursday, when it will be the first game in a split doubleheader.
Bill Borghoff, a meteorologist with the Weather Service, said parts of the northwest metro, including Brooklyn Park and Maple Grove, saw about
6 inches of rain Wednesday — a daily record for the year.
"In the [flood] watch we issued yesterday, we did mention over 7 inches in some areas, so this is kind of what we expected, just not as widespread as we anticipated earlier," he said.
More rain to come?
The sheer amount of water is unusual for mid-September and more typical of midsummer, forecasters said Wednesday.
The soil is already saturated from recent storms and one of the wettest Augusts on record, and river levels are higher than normal — increasing the chances of larger-scale flooding well beyond Wednesday night.
Some meteorologists are comparing this week's rainfall to September 2010, when 5 to 8 inches soaked southern Minnesota and caused major flooding.
"We're hoping we don't go quite that far with this one," said Craig Schmidt, a Weather Service hydrologist. "If you've had problems in the past, then the potential is there again."
The wet weather is far from over. In addition to the showers and thunderstorms that were expected to continue overnight, wrapping up before 7 a.m. Thursday in the metro area, more rain is expected later Thursday and Friday, with heavy amounts again possible. Wet weather is also possible into the weekend and beyond, forecasters said.
"This is not over yet," Borghoff said.
Staff writers Vince Tuss and Liz Sawyer contributed to this report.