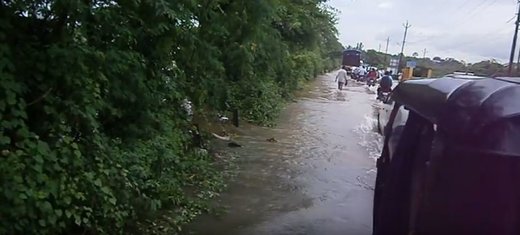 It's likely to be an above average year for rainfall across the country, but in the coastal town of
Dahanu
in neighbouring
Palghar
district, it may well be an extraordinary monsoon.
On Wednesday,
Dahanu received 529mm rainfall in the 24-hour period ending 8am, breaking a nearly 60-year record by a long way.
Dahanu's previous 24-hour record for September was 481 mm in 1958. A met official said the reason for "vigorous
rains
" was the fact that weather systems over both the Arabian Sea and the
Bay of Bengal
were active.
The downpour hit normal life as roads got flooded and power and phone lines snapped. School and colleges declared a holiday. Tribals in Vadvan Tigrepada said their homes were inundated and foodgrains damaged. The Gholvad-Dahanu belt was the worst affected. Railway tracks were flooded and services delayed by two to three hours. Power supply and phone lines were restored by Wednesday evening after rain subsided.
Mumbai received 142.6mm rainfall in the 24-hour period ending 8am on Wednesday. This is the highest rainfall recorded in a single day in September in the city in the last four years and the second highest since 2010.
Weathermen have predicted intermittent rain or showers with heavy rain in one of two places on Thursday.
Owing to incessant rain in the last two days, temperatures have dropped in Mumbai, the difference between the maximum and the minimum reducing further. On Wednesday, the maximum temperatures recorded by
IMD Colaba
and
Santacruz
were 29.2 degrees Celsius and 28 degrees Celsius respectively and the minimum were 25.8 degrees Celsius and 26.3 degrees Celsius respectively.
On the whole, Mumbai has experienced a heavy monsoon this year. Since June 1, the observatory has recorded 2,133mm rainfall at Colaba and 2,647mm at Santacruz—which is above average. The surplus in Colaba has been 177mm and in Santacruz 514mm.
"The overall monsoon this year has been good in Maharashtra. There is also another low pressure area forming over the coast of Andhra and moving in the north-west direction. This is expected to give good rains to areas of Vidarbha and Marathwada. The monsoon current is extremely active with there being over five weather systems being active over the entire country," said K S Hosalikar, deputy director-general (western region), India Meteorological Department.
The entire north Konkan belt, which includes Dahanu, has received unusually high rain. Dahanu, in particular, has received 3,700mm rainfall since the onset of monsoon this year—an excess of 1,883mm. Weathermen said with such an active monsoon, withdrawal is expected to be later than the normal date of September 30.