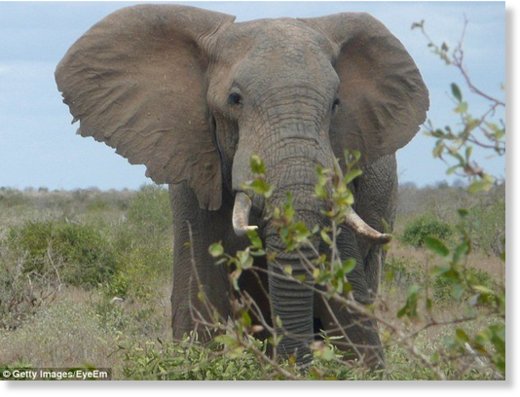 A 66-year-old Italian tourist was trampled to death by an elephant after 'provoking' the animal when he moved too close to get a better photo, police said.
Ferdinando Mocciola had been having breakfast with his wife in their tent when he left to photograph the elephant at a waterhole in Kenya's coastal region on Sunday.
The businessman suffered serious injuries to his left leg and died after the elephant charged at him outside luxury Swara Camp in Kulalu Ranch, according to officials.
Malindi Police chief Muchangi Mutava said the elephant attacked the tourist when he provoked it by moving closer to take photographs.
'He excused him while taking breakfast with the wife and proceeded to water point and started taking pictures, provoking the elephant that charged towards him and attacked him seriously wounding him,' Mr Mutava said.
Mr Mocclola was pronounced dead at the camp before he could be airlifted to hospital.
He was on a luxury safari with his wife and a group of friends, according to reports.
The businessman was originally from Avellino and spent many years living in Lodi, northern Italy.
He built a successful carer and worked in a business that was key to Airpack packaging company.
Both Mr Mocclola and his wife, who arrived in the country last month, were due to leave in two weeks when their tourist visa expires.
Swara Camp, which is located in Tsavo East National Park, attracts hundreds of tourists a year due to its wide range of wildlife.
The luxury resort boasts 12 tented suites with private bathrooms, all looking out onto the Galana River.
It is the only camp in Tsavo East which has been accredited as an 'Eco-luxury Retreat of the World'.
On the resort's website, it states: 'Thanks to its strategic location along the Galana River at the edge of the Park in the private Kulalu Ranch, you will be able to see a mesmerizing variety of animals that regularly come to drink from the river.
'You will be able to enjoy this breath-taking scenery from the comfortable sofas on the veranda or directly from the infinity pool.'