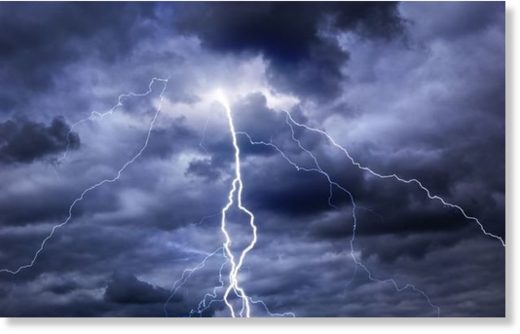 In Odisha people are getting killed in large numbers by what is perhaps the most unpredictable natural phenomenon -- lightning. In the last seven years lightning has killed 2,297 persons in the state,
a figure which is much higher than the deaths caused by other natural calamities.
On average, in these past seven years, 327 persons died of lightning strikes in Odisha every year, according to a report by the Special Relief Commissioner.
This year alone, 284 persons have so far been killed by lightning, the report said. Of them, 56 persons died in lightning strikes in four days in the first week of August.
Most of the victims are farmers in rural areas.
"The problem with lightning is that it cannot be predicted, which makes it all the more challenging to issue timely warnings. We have decided to issue an advisory to districts about what to do and not to do during lightning strikes," said Pradipta Kumar Mohapatra, the Special Relief Commissioner.
While there is no preventive solution that can be offered, Mohapatra has proposed sensitising people by issuing advertisements in newspapers.
"Lightning has been declared as a 'state disaster'. As per the norms, Rs 4 lakh per deceased will be paid by the government as ex-gratia," said Mohapatra.
While 281 persons were killed due to lightning in 2010-11, 355 were killed in 2011-12, 293 in 2012-13 and 372 in 2013-14. The death toll was 308 in 2014-15,

399 in 2015-16

and 284 in 2016-17 (as on August 20), said the report.
Notably, over 3,000 persons have died due to various calamities in the state in the past five years between 2011-12 and 2015-16.
The other major causes of unnatural deaths include fires, sunstroke, hailstorms/whirlwinds, floods, cyclones, boat mishaps, drowning and snakebite.
Natural calamities have claimed the maximum number of deaths in 2015-16. While as many as 979 persons have died due to various calamities in 2015-16, 474 died in 2014-15, 497 in 2013-14, 408 in 2012-13 and 512 in 2011-12.
Likewise, 241 died in floods, 219 died of sunstroke 144 deaths have occurred due to fire, nine due to hailstorm, 24 died in cyclone, 100 due to boat capsize and 177 deaths due to drowning.
Interestingly, snakebite -- which has been added to the state calamities list -- has claimed 302 lives in 2015-16.
According to the National Crime Records Bureau data,
at least 2,000 people have been killed by lightning every year in India since 2005.
Source: IANS