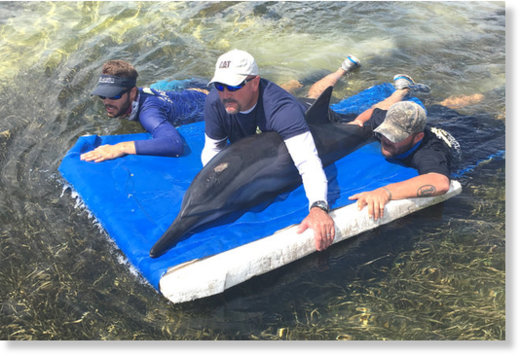 Three more spinner dolphins were found stranded in the shallow waters of Florida Bay in the Everglades National Park Monday.
Veterinarians concluded that the mammals were too sunburned and dehydrated and euthanized them to avoid additional suffering. This was the second spinner group in two days found stranded in the bay.
Saturday, marine mammal rescuers with Key Largo's Dolphins Plus responded to four stranded spinners near Rabbit Key and another off Lower Matecumbe Key.
They too were extremely dehydrated, said Art Cooper of Dolphins Plus, and veterinarians euthanize three of them. The other two were taken to Sea World in Orlando. One died there Sunday and as of Monday, the remaining spinner is in critical condition.
Cooper theorizes the spinners, usually found in deep water, were off course because of Hurricane Hermine. But to be certain, the dead dolphins will be examined by biologists with the National Oceanic and Atmospheric Administration's National Marine Fisheries Service to get a clearer understanding as to why they stranded.