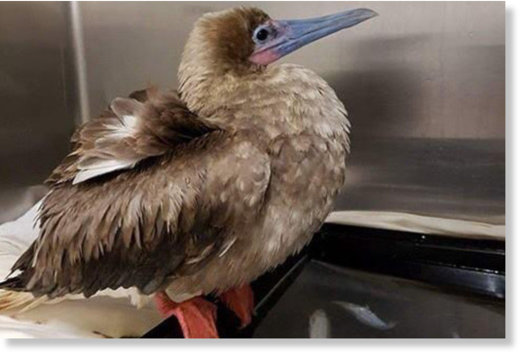 A rare bird
normally found in tropical regions of the Atlantic, Pacific, and Indian Oceans was found in St Leonards at the weekend.
The East Sussex Wildlife Rescue and Ambulance Service (WRAS) was called out mid-afternoon on Sunday (September 4) to reports of a seabird washed up on the beach.
Volunteers Andrew Loftus and Charlotte Humphreys had a surprise when they turned up and found it to be a red-footed booby.
WRAS founder Trevor Weeks MBE said: "Sunday afternoon saw rescuers rushed out to reports of a seabird on the beach at St Leonards.
When they arrived they found a very usual bird.
"After some research the bird turned out to be a red-footed booby. This is a first for us and possibly a first for the UK if it has flown here. We assume it hasn't escaped from anywhere.
"We know they have been seen in Spain before but are normally found in much hotter environments like the Galápagos Islands, and is obviously a long way from home.
"Rescuers managed to catch the bird easily on the beach and brought it back to WRAS's Casualty Centre at Whitesmith for initial care.
"The bird was underweight and showing signs of feather stress and was transported to RSPCA Mallydams Wood at Hastings where they have more specialist facilities for sea birds.
"They will deal with its long term treatment, care and rehabilitation back to the wild which might mean flying it to a more suitable location for release."