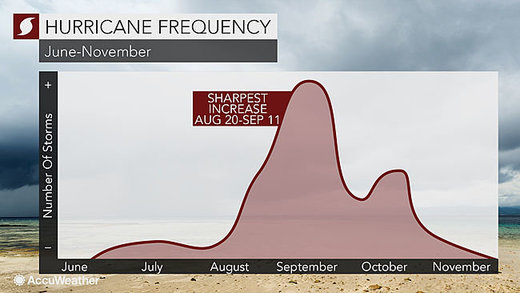 Following a tropical storm threat in the Bahamas and Florida into this weekend, an uptick in tropical systems will continue for the next six to eight weeks. The potential exists for significant impact on lives and property from the Caribbean to the United States and Canada.
The average peak of the Atlantic hurricane season lies ahead.
With the inhibiting factors of El Niño removed, a busy September and October are likely in terms of the number of tropical storms and hurricanes. El Niño is part of a natural cycle of warm tropical Pacific Ocean water. Generally, when waters of the tropical Pacific are warm, weather patterns cause gouges of disruptive winds and dry air over the Atlantic.
The El Niño/La Niña cycle is in a neutral state and swinging toward a La Niña state, which produces cool tropical Pacific water and generally creates light winds and promotes moist air over the Atlantic.
During an average season, the period from September and into October brings water temperatures near their annual peak, plenty of moist air and little in terms of disruptive winds in the tropics.
"We continue to expect above-average numbers of tropical storms, hurricanes and major hurricanes this season for the Atlantic basin," according to AccuWeather Hurricane Expert Dan Kottlowski.
"This season we expect 14 tropical storms, eight hurricanes and four major hurricanes," Kottlowski said. On average, there are 11 tropical storms, six hurricanes and two major hurricanes each year over the Atlantic basin.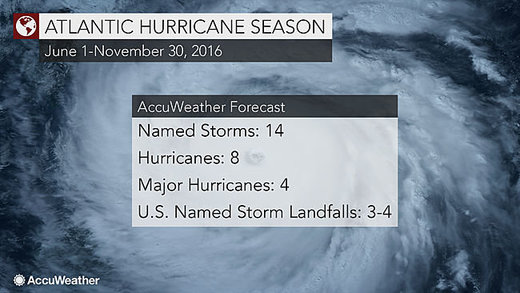 Following the potential tropical threat in Florida into this weekend,
the next several weeks are likely to bring pulses of tropical storms and hurricanes. "There will be periods were multiple systems will be active at the same time,
and some episodes where there is little or no activity," Kottlowski said.
Beyond late August and early September, there is the potential for another landfall in the United States. The main breeding ground of tropical systems in the equatorial Atlantic, originating from the train of disturbances moving westward off Africa will continue into October. Actual impacts or direct hits on land areas will vary from storm to storm as there will be subtle changes in the overall weather pattern as the season progresses.
Later, during late October into November, the risk of tropical systems developing close to the Caribbean and nearby Gulf of Mexico and Atlantic waters will resume. Through early August, there have been two landfalls in the southeastern U.S. involving tropical systems.
Tropical Storm Bonnie weakened to a depression just prior to landfall near Charleston, South Carolina, during late May. A little over a week later, Tropical Storm Colin made landfall over the Big Bend area of Florida, along the shores of the Gulf of Mexico. While heavy rain, urban flooding and power outages occurred, damage was minimal. More recently, Gaston became the first Atlantic hurricane during the warm months of the year.