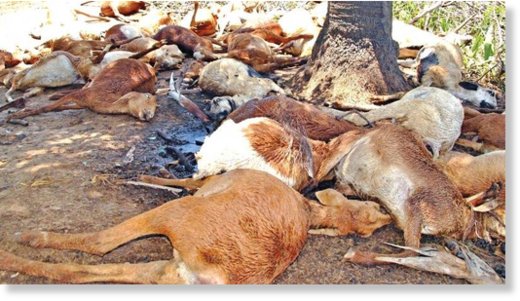 In a gross natural disaster, a total of 38 sheep were killed on Tuesday night as lightning struck the Kammalam Poondy village in Kanchipuram district.
The catastrophe had left the village in a pall of gloom and is a first of its kind in the recent past, said the distressed villagers.
Cattle owner E. Lakshmanan (45), who lost 38 sheep among the 104 ones, has incurred a loss of Rs 1.52 lakh. As brief spells and thunderstorms were observed on Tuesday evening, Lakshmanan had chosen to not take the cattle to a fenced field and left them in an open ground, a few yards behind his house. At around 11pm, he woke up to the disturbance and was shocked to see the carcasses of the cattle.
He alerted the villagers; informed it to Uttaramerur police and the revenue officials, who inspected the site. Tahsildar of Uttaramerur taluk Shanthi said that they have collaborated with the animal husbandry department for the enquiry.
"A detailed statement will be sent to Kanchipuram collector soon," she said.
Officials from animal husbandry department predicted that the animals could have died due to heart failure. "However, it could be confirmed after studying the autopsy reports," the official said.
The cattle owner, for whom the cattle are a livelihood, had not insured, it was learnt.
"We are in shock. Animals usually die due to snake bites or diseases. Even during the floods, the loss was not this intense,"
said a villager, Kumaran.
"Cattle got dispersed when lightning struck. If they were sheltered in a fenced field, there were chances that he would have lost them all," said Sethupathi, another villager.