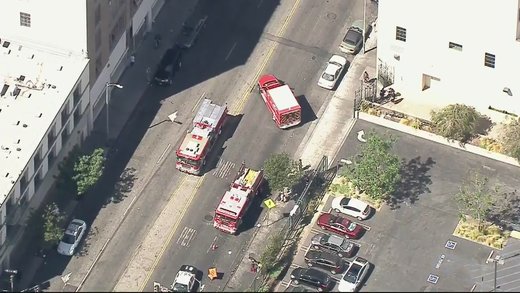 For the second time this year, a crowd of people in the Skid Row were sickened today, and it's unclear if a substance is making people sick

At least 18 people became ill today in the Skid Row area of downtown Los Angeles, but it was not immediately clear what sickened them.
Firefighters and paramedics were sent to the 200 block of East Fifth Street shortly before 1 p.m., according to the Los Angeles Fire Department.
Eighteen people were evaluated at the scene and taken to hospitals after reporting that they felt ill, LAFD spokesman Brian Humphrey said.
It was not immediately known what caused the people to feel ill, Humphrey said, explaining that department personnel
had "not identified (a) reason for (the victims') illness, including the identification of any related substance or intoxicant."
Within a 24-hour span in April, about 10 people, including a police bicycle officer, were sickened in the area of San Pedro and Fifth streets, not far from today's incident, by an unknown substance or intoxicant.
At the time, officers assigned to the area spread the word that it appeared a drug being circulated was making people sick, but authorities didn't figure out what caused the illnesses and no one was arrested.