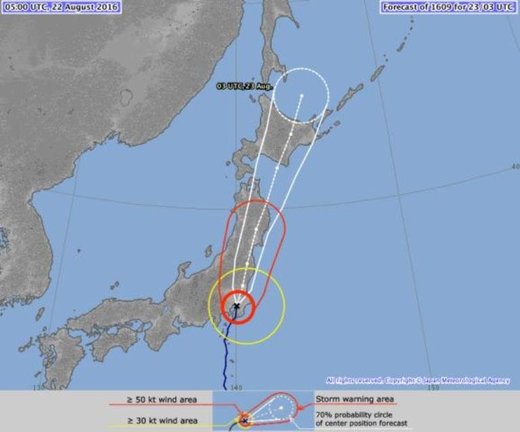 Typhoon Mindulle unleashed heavy rains on Tokyo, bringing the risk of floods and landslides as the tropical storm made landfall near the Japanese capital shortly after noon Monday.
The typhoon's center was about 74 kilometers (46 miles) south of Tokyo as of 1 p.m. local time and heading north, the Japan Meteorological Agency said. With maximum sustained winds of 126 kilometers per hour (78 mph) and a maximum wind gust speed of 180 kilometers per hour, Mindulle is the equivalent of a category 1 hurricane, the weakest on the Saffir-Simpson hurricane scale.
The weather agency
issued
heavy rain and flood warnings for all 23 wards of central Tokyo, while the Prime Minister's Office
warned
of possible landslides and damage from strong waves. A total of 250 millimeters of rain was predicted in the Tokyo region for the 24 hours to noon, the agency said, and it issued tornado warnings for Tokyo and surrounding areas. Nine rivers were at a dangerous risk of flooding, according to national broadcaster NHK.
Japan Airlines Co. canceled 148 domestic flights, affecting about 28,000 passengers, while ANA Holdings Inc. scrubbed 112 flights, affecting about 26,500 passengers, according to statements from the airlines. Tokyo Electric Power Co. said about 66,000 homes were without power as of 2:25 p.m., mostly in Chiba prefecture where the typhoon made landfall.
Derailed Train
Trains were also affected, with East Japan Railway Co. canceling dozens of trains and Odakyu Electric Railway Co. halting routes between Tokyo and popular tourist destination Hakone. The Yamagata bullet train line was partially halted for the rest of Monday.
A passenger train in rural western Tokyo carrying six passengers was derailed due to a landslide, Jiji News reported. No injuries were reported.
Mindulle is the ninth typhoon of the season. Two other storms are hovering around the Japanese archipelago, with the 10th, Lionrock, tracking toward Okinawa and the 11th having weakened to an extratropical cyclone after passing over the northern island of Hokkaido Sunday night. Hokkaido is on alert for more landslides as Mindulle moves north.