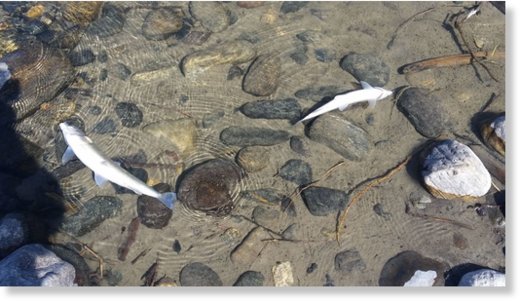 Vicki Schwarz had friends in from out of state, so they decided to float down the Yellowstone River on Sunday afternoon. They put in at Mayor's Landing near Livingston, six people on the raft. But as the Livingston schoolteacher rowed them along, it became clear something strange was going on.
"I noticed as I was paddling that like every 5 feet I could see a belly-up whitefish," Schwarz said. "It was really sad. I didn't know what to tell anyone."
State officials aren't yet sure what to tell anyone either. Montana Fish, Wildlife and Parks has now counted more than 1,000 dead mountain whitefish in the Yellowstone River. Dead fish have been seen as far upstream as the Point of Rocks Fishing Access Site south of Emigrant and as far downstream as one east of Springdale. But they can't point to a cause just yet.
FWP spokeswoman Andrea Jones said in an email that samples from the fish have been taken to the U.S. Fish and Wildlife Service fish health center in Bozeman, but Jones couldn't say when the results might be back.
Department staff found 383 dead whitefish on the west bank of the river on Saturday and another 354 on the east bank during a river float from Pine Creek to Carter's Bridge. That adds to another 382 FWP staffers counted on just one bank during a float farther upstream on Friday. FWP staffers floated a lower section of the Yellowstone River on Monday, from the Highway 89 bridge to Springdale.
The kill was first reported to the department on Thursday by outfitters and guides. Only whitefish and suckers have been found dead so far. FWP biologists reported finding fish of all ages and sizes.
The mountain whitefish is a native species in Montana rivers. Christopher Guy, a Montana State University fisheries management professor, said that compared to other streams, "whitefish in the Yellowstone have always been fairly abundant."
Guy said that whitefish are more sensitive to high water temperatures than other species.
But he said that the age range found along with the volume of dead fish likely rules out deaths due to a combination of angling and temperature stress.
A U.S. Geological Survey gauge on the Yellowstone River at Livingston recorded temperatures peaking at or above 68 degrees three times in the last week,
though they were days apart.
Disease outbreak could be possible, Guy said, especially if the fish are concentrated in large groups. None of this can be confirmed until the lab results come back, however.
"We're just all speculating at this point," Guy said.
Montana Fish and Wildlife Commission chair and Livingston outfitter Dan Vermillion said the flows could be a significant factor. The USGS gauge at Livingston recorded streamflows at 2,070 cubic feet per second on Monday, nearly 1,500 CFS below average for the day.
Vermillion said that the many demands on a river — from agriculture, city water systems, homes — create challenges for fish, as the varied interests pull water from Montana's streams. Those challenges could increase into the future and may lead to more incidents like this, he said, especially if hot and dry summers continue or increase in severity due to climate change.
"What we do know is that moving forward we've got some water challenges," he said.
Vermillion said river users he had talked to reported seeing "dead fish everywhere" across a large stretch of the river.
Schwarz said her group stopped on an island at one point during the float and saw several spread out on the shore.
"I've never seen the river like that in 20 years," she said. "Once in a while we see dead fish, but nothing like that."