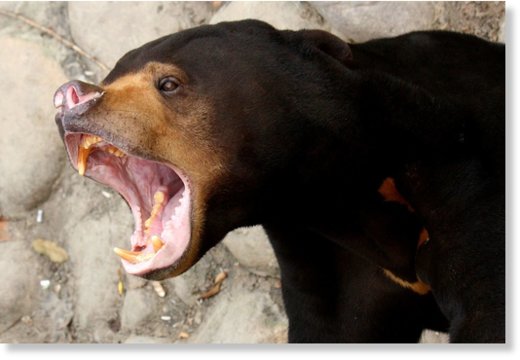 A Thai man died after he was attacked by a sun bear at a durian orchard near the Renok Baru Kesedar settlement here today.
The body of Mat Didik@Madidi Basa, 40, was found by his son Muhamad Naim, 15, who went out to search for him about 6am.
District police chief Superintendent Rajab Ahad Ismail said the victim had gone out alone to the orchard about 10pm and most likely came across the bear.
"Villagers claimed that they had seen a bear prowling in the orchard. People have also spotted a bear eating durian on a tree. He could encountered the bear while he was collecting the durian and was attacked by the animal.
"There were slash wounds on his head,"
he said.
Meanwhile, Kelantan Wildlife director Mohamad Khairi Ahmad Said said the department received the information at 8.15am and has deployed five staff to investigate the incident.